Word on the street was that Kanada-Ya does the best Ramen in London. It was a bold claim, backed up by the hoardes of people queuing outside and the glimpses of jam packed tables within this tiny Japanese bar. I'm an impatient soul, made only more impatient when I'm hungry! So it took some serious curiosity for me to join that queue and wait my turn to see what all the fuss was about.
We narrowly made the cut before closing time and were the last punters through the doors, followed by plenty more who had to be turned away until another day. Just how popular is this place?! A good 90% of their customers were Japanese, a promising sign that what we were about to eat was the real deal.
The interior is suitably minimalist and pretty much has the climate of a rainforest. All the ramen steam thickens the air and makes condensation stream down the windows! The menu is extremely simple: original ramen with the choice for a few extras, all bobbing around the £10 mark.
Isn't it gorgeous looking? Exactly what we needed after a cold stint on the streets of London. The steam rises up and meets your nose with the smell of a rich 18 hour pork bone broth, hiding a hearty helping of noodles and garnished with nori, spring onions, wood ear fungus (I told you it was real deal!) and thinly sliced belly pork.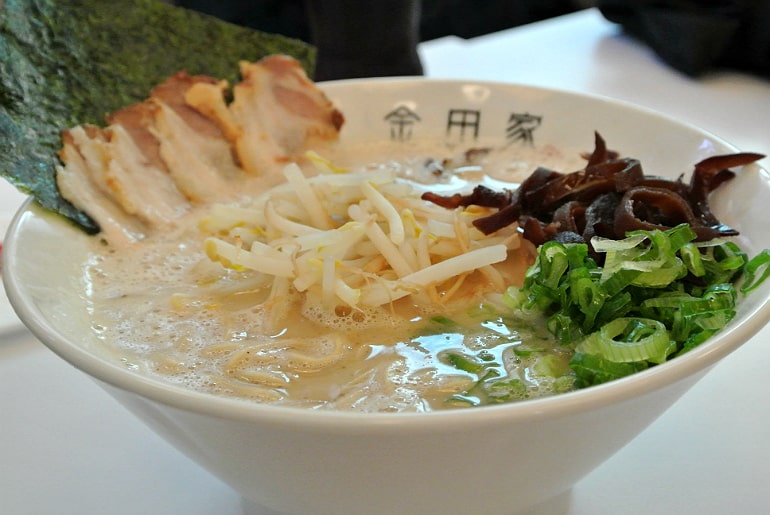 The belly pork was mind blowingly good. I urge you to order extra on the side, because the small offering you're given as standard will only leave you sad that you didn't have more! The whole meal is intensely flavoursome and has the warm, fuzzy soul healing power that only the very best broth can provide.
I've got to agree, best Ramen in London. Best ramen I've ever had!