Burgers have got to be one of my favourite foods; you just cannot beat the instant gratification of that juicy, squishy, cheesy goodness! So when Mr YDS asked me what I wanted to eat for my birthday the first thing that popped into my head was just that.

Of course if you want to do it proper, you've got to go into London. I do wish these burger places would venture out from the capital a little more; alas this is burger mecca, and they're undeniably worth the journey. Besides, I suppose it could be quite dangerous to have them closer to home!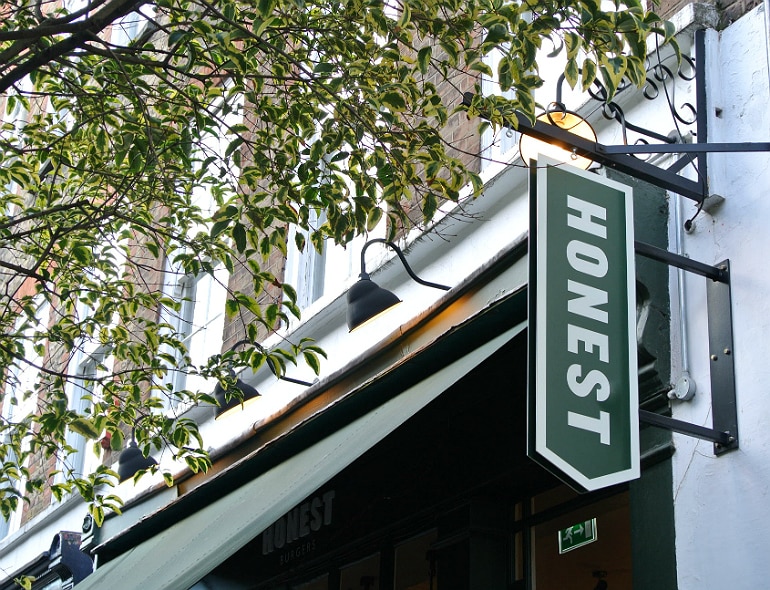 In typical London burger bar style Honest Burgers was heaving. Far too many people crammed into far too small a space, more hungry visitors waiting outside to be served and one very busy lady (with a fantastic memory) taking numbers and shouting out waiting times. You've gotta love that burger buzz!
Be prepared to apologise to your neighbours as you get seated at your table; I nearly knocked a guy's drink over with my bum as I shuffled past! But once you're in you can finally relax and we did so with a round of Honest house made cloudy lemonade served in a jar. Because y'know, it's London.
The menu is almost like a flow chart and offers five beefy options, one chicken and one veggie. The Tribute won us both over, sold by the sound of American cheese, burger sauce and mustard, delish!
"Well hello there beautiful!"
Doesn't that just look dreamy? So much cheese and condiments, my absolute heaven! Meals are served in lovely tin dishes. Burgers come with those gorgeous brioche buns; one of my favourite bits about eating a burger is squishing it all down with the palm of my hand, before picking it up and getting stuck in. First bite had me wide eyed with glee, oh wow was it juicy! Plenty of napkins are on each table and you will definitely need them. The burger patty is beautifully tender and a perfect shade of blushing pink. The burger sauce and French mustard in the Tribute give a lovely acidity. A very well balanced combination of classic flavours!
Now here comes the bit that divides most, who does the best chips? Honest Burger top quite a few opinions and they really are good, particularly if you fall into the crispy chip lover category. They're incredibly gnarled and rustic, with a thick crunch and a hint of rosemary in the salt. As someone who loves mega salty chips, I found these a little under seasoned for my taste and felt Honest Burger missed a trick in not having salt on the tables for the sodium fans. Nothing a giant dollop of ketchup couldn't fix mind.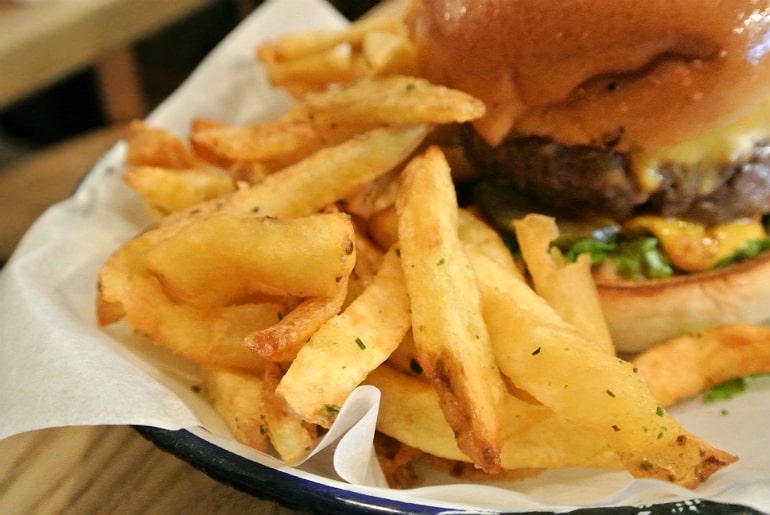 What a bloody good meal! All the hunger and anticipation in waiting meant that when these little beauties were served to us we scoffed the lot in no time at all. We both leaned back, clutched our stomachs and smiled. Like I said, instant gratification! That's another burger bar champion ticked off my list.