We've been planning to learn how to make our own wontons for ages, since we love them so much! New year seemed like a good enough moment to finally do it. Having tasted the final outcome, I am SO glad we did.
For the wontons you Will Need:
500g lean pork mince
2 handfuls of sliced mushrooms
2 spring onions
1.5 tsp Chinese 5 spice
1 tsp sweet soy sauce
1 tsp soy sauce
1 tsp sesame oil
1 tsp pepper
1 pack of fresh wonton wrappers
For the soup you will need:
1.5 -2 litres of chicken stock
1 spring onion
2 pak choi
handful of beansprouts
Soy sauce to taste
Step 1:Make the wonton filling. Add your mince to a bowl and season with the soy sauces, sesame oil & spices. Add to this the mushrooms & spring onions both very finely chopped.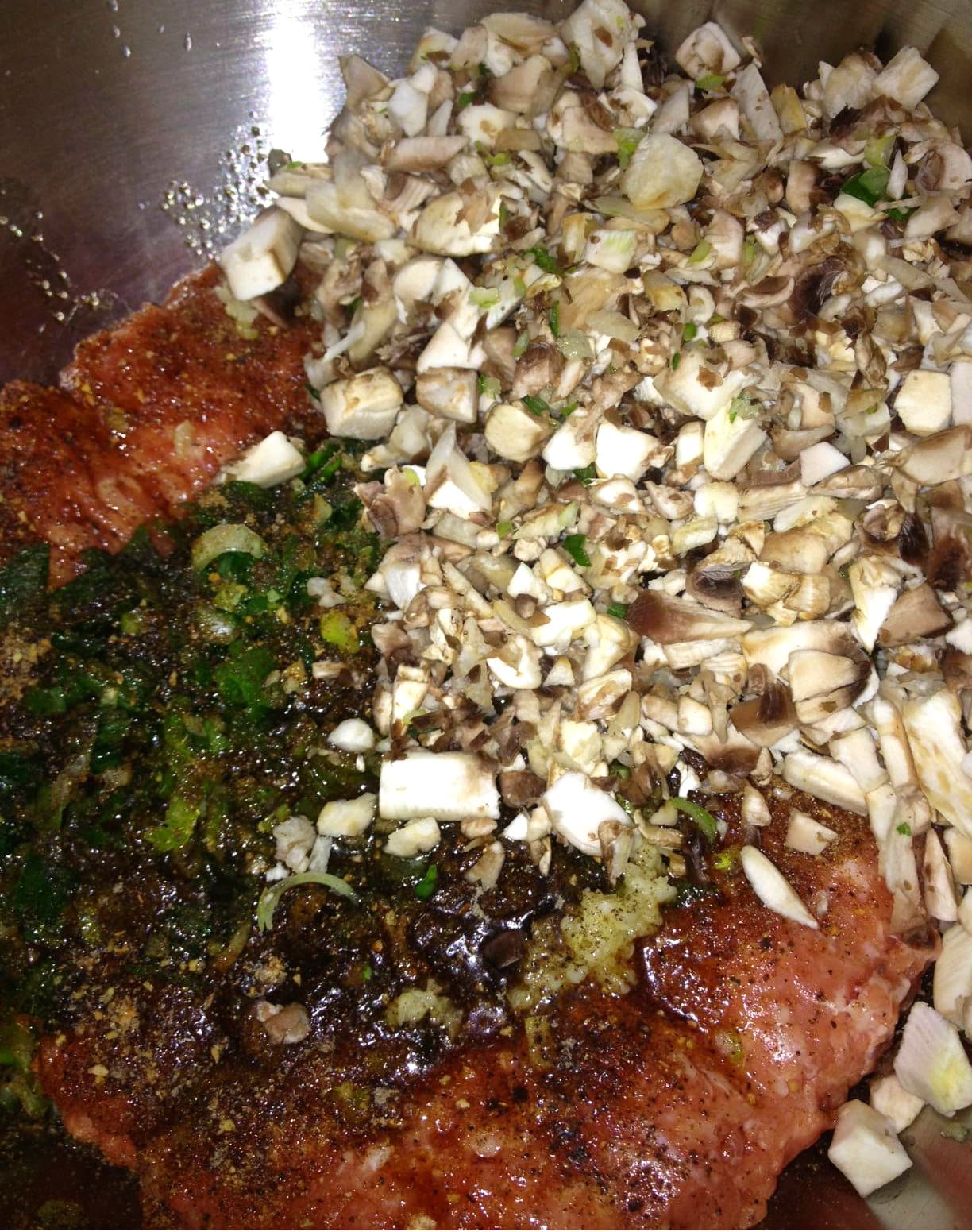 Now get your hand in and smoosh it around until it's all mixed up.
Step 2: Make the wontons. This bit is really fun! You take a small ball of the pork filling and place it in the middle of a wrapper. You them wet two sides of the wrapper with water and then fold into a wonton.
Here's an example of how to fold a wonton:
You basically make a triangle, then fold the corners of the triangle up, and scrunch it all up.
Ta dah! My very first wonton! Isn't he cute? This recipe makes loads of wontons and as you'll only need about six for each soup you'll have to freeze some and save them for instant Chinese deliciousness at a later date. You poor thing!
Step 3: Add the wontons to the stock on a low boil, along with the beansprouts, spring onion sliced into inch segments and pak choi leaves. This will take 10-15 minutes to cook.
Once it's cooked all you have to do it serve it up and enjoy!
How authentic does that look? Tasted just as good as the real thing too! Wontons are actually very easy to make once you get the hang of folding them and you can cook them in different ways. Firstly you can boil them as we've done here or steam them; both methods will give you a soft, guilt free wonton. Another popular method is to deep fry them, this takes just 45 seconds in a pot of hot oil and served at a party with sweet chilli sauce they are incredible! My Yumdimsum's aunty does this and we can't leave them alone!
We went a little unorthodox and tried baking a few of them so see if we could get them crunchy without having to fry them, it worked really well! 10 minutes at 200 degrees did the job.
So there you go, we no longer need to buy Chinese party packs when we have people over, we can do it ourselves!
Wonton Tips:
Use lean pork mince, the more fat in the meat the oilier your wontons will be.
Only wet 2 sides of the wonton wrapper, it sticks better
Pinch the top of the wonton to make sure it doesn't come undone when cooking
Don't over fill! They will burst.