Isn't it the Japanese who have a saying which marvels at how you can do the same thing twice and it won't be the same? I couldn't have experienced that more perfectly this weekend. Last year I took my mum to The Malverns for Mother's Day, where we set up camp and cooked hot dogs in coats and scarfs and huddled around our little cooker for warmth. It was so much fun that this year I planned to do for her the same again, only this time there was sunshine on my side.
We arrived at The Malverns stopping at a secluded quarry and bathed in light. The sky was blue and the sun was for the first time that I can remember in months warm, really, wonderfully warm. We set up deck chairs, free of coats and sat like cold-blooded creatures with heads craned towards the sky enjoying that forgotten feeling of the sun on our faces.
I was first to tear myself away and get lunch on the go, after all I had spent the entire day before cooking a feast from scratch. I'm talking beetroot and feta dip, filo parcels, sausage rolls, sticky Chinese chicken, pasta salad, avocado salad and lemon drizzle squares. Only the best for mum!
Cheers mum!
What an incredible difference the sun makes. Sips of champagne were broken up with mutters of "This is so nice," and, "Isn't this weather is amazing?" Does anyone appreciate the sun more than us Brits?
As we finished lunch we started looking up toward the hill side and a winding trail which lead up above the tree line to what we knew were some incredible views.
The Malvern hills are a long ridge of, well, hills. They undulate up and down (as hills are prone to do) and with being quite narrow offer incredible views either side down onto the land below. You feel very much king of the castle up here with your fellow noble men and women; walking and running and cycling along the hilltop.
There are numerous routes up and down and well trodden paths leading straight up the hills, or cutting around the sides for more leisurely strolls.
Straight up we go.
The higher you climb the bigger the reward: just look at those lovely views!
Reaching the peak I (of course, it is me) reached for a snack. We weren't exactly hiking for hours on this occasion but still, it's nice to have a nibble, isn't it?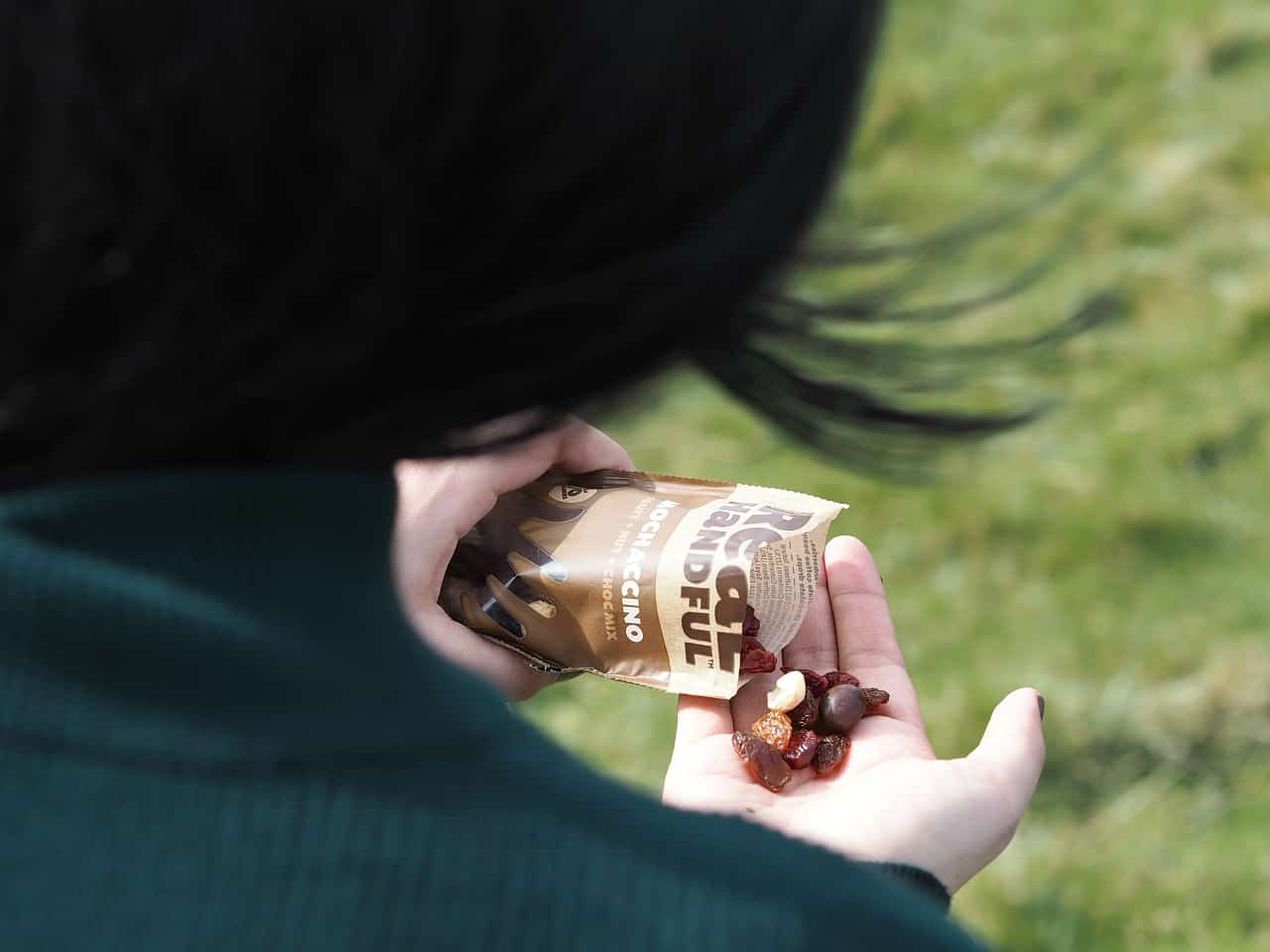 After all the cooking I had done for lunch I didn't have time to whip anything up for the trail. But I was recently sent some goodies from Real Handful which so happen to be a new trail mix brand and so y'know, they were pretty perfect for grabbing as we headed out on the road.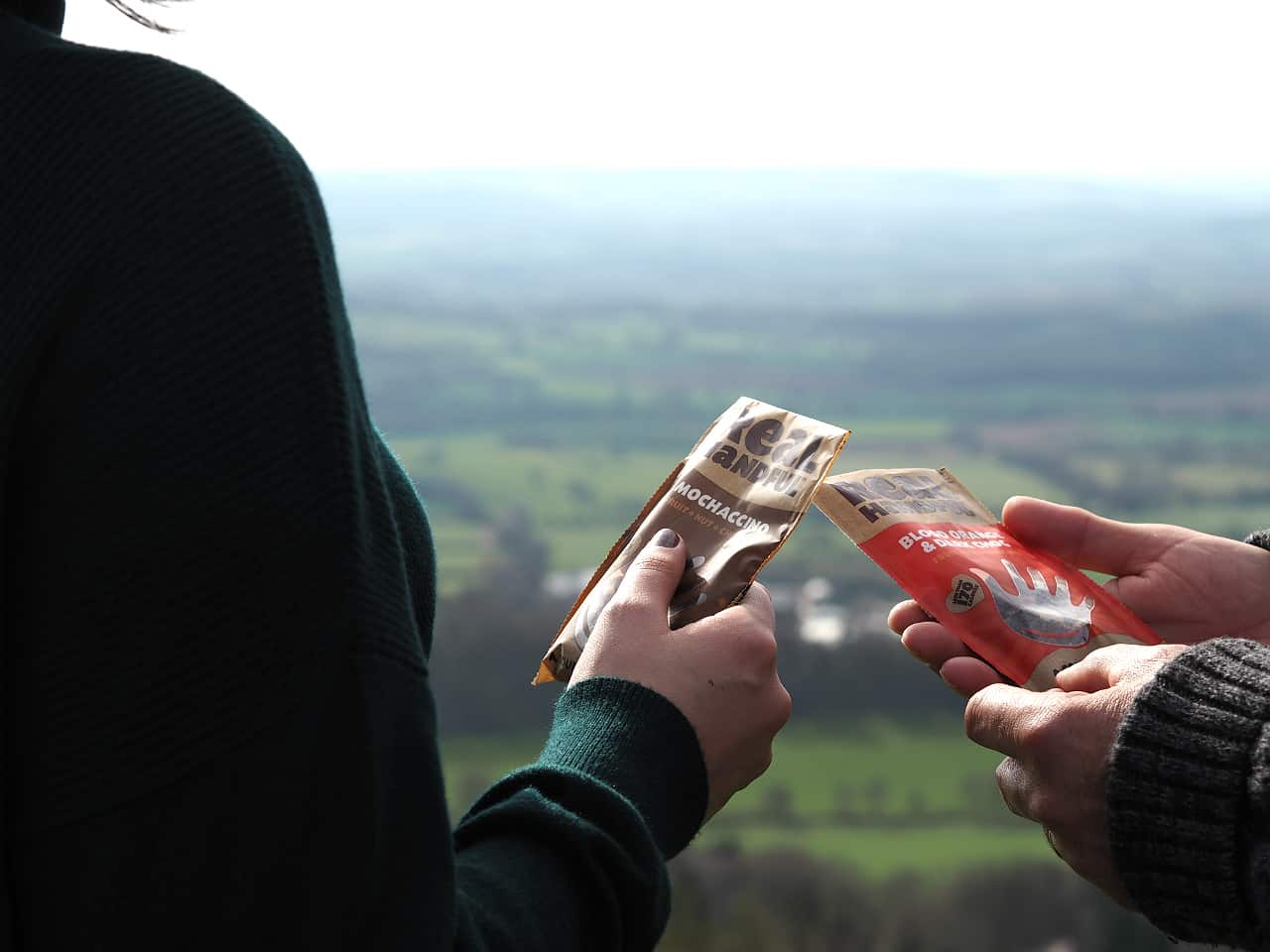 There's six flavours including more mainstream options like berries and strawberries & cream, but I brought along two less usual flavours which were bloody tasty: Mochaccino and Blood Orange & Dark Choc. They soak the raisins in the mix to give them more flavour… and who knew coffee soaked raisins were a thing? A really nice thing at that! The trail mix is a tad bit stickier than usual from the extra flavour processes, but the extra flavour is definitely worth licking your fingers for. I love these gourmet themes! The Blood Orange & Dark Choc tastes really indulgent, not bad for 170 cals.
And not bad for fuelling a bit more view hunting! Eventually us kings and queens had to descend from our castle (it was unbelievably windy up here and I was risking dreadlocks) and head back down to the flatlands. Another successful Mother's day and quality time with my lovely family. Thank you sun, please stick around!
Disclosure: this is a paid post. As always all thoughts are my own.