Helsinki isn't at the forefront of tourist destinations, but it should be. It's a wonderful city with beautiful architecture, endless shopping and fantastic food & drink. This was my third trip over so I'm starting to know it pretty well. Each time I've visited it's been around Christmas and let me say it's a perfect festive break! The city has really beautiful and comes to life with Christmas lights.

With long, cold Winters the Finns know how to do hearty, warming food. Needless to say I'm in heaven over there! So here's a guide of great spots for eating, drinking and being merry.
The Christmas Market
If you go in December the Christmas market runs in the famous square that's overlooked by the Helsinki cathedral. This is a good spot to grab a small bite of something local. This year there was a fantastic sausage & sauerkraut stall!
(Mid chewing!)
And of course you've gotta have mulled wine! Or as they call it in Finland, Glogi. They have two types: red wine glogi which is the kind we're familiar with, or yellow glogi made from a spirit similar to brandy which is much stronger and guaranteed to put hairs on your chest!
There's wooden cabins with blankets to shelter in if the weather beats you!
Zetor
This is a huge restaurant/bar that embraces a higgedly-piggledy country vibe. It's crammed with loads of decorative nic-nacs and there's plenty of nooks and crannies to hide away in. A really fun place to get food or spent a night drinking!
The menu is a newspaper and covers a bewildering amount of languages!
Liver & mash
Reindeer & mash (Finns really know their mash)
Kamp Brasserie
The hotel Kamp is one of the finest hotels in the city. Their brasserie is set amongst huge vases of flowers, ornate marble pillars and mirrored ceilings. Prices are not significantly steeper than anywhere else in the city so it's quite good value for money if you fancy a touch of luxury.
Just outside the restaurant is their beautiful bar, great for a pre-dinner cocktail!
Can you believe this was my first time trying steak tartar? Turns out it really lives up the hype, raw steak & egg is delicious!
Guinea fowl.
My only gripe is their portions are a little inconsistent, be sure to order some sides to share in case your dish comes up short!
Fazer
One of my favourite things about Helsinki is the cafe culture. There's coffee shops and bakeries and chocolatiers everywhere and the best of them all is Fazer. I suppose it's Finland's answer to Thorntons, but on top of beautiful chocolates in every form you could imagine, they serve stunning cakes and pastries.
The place is always heaving to get your sprinting shoes on for a table!
Cakes range between 6-8 Euros so it's not cheap, but they are so worth every penny. This last cake in particular was our favourite: it was served warm and was a strange mix between cake and custard, with a biscuit base and lovely festive spices. Total heaven with a cup of coffee!
The Woolshed
Helsinki is in general a very expensive city, and eating out is not cheap. So this was a lucky find on the outskirts near the train station: a wood clad bar & restaurant (that smells wonderful) with simple American style food that's much more reasonably priced than other places.
The burgers aren't the best you've ever had, but they're a solid and tasty meal, nicely presented with lovely sides. Definitely order the chicken wings and skewers the start, these were brilliant!
Beers are offered in steins as well as pints. There's loads of quirky ones to pick from as well, I challenge anyone to keep a straight face as they order a pint of 'Fucking Hell'.
Aino
The decor is far more simple than my other favourites, but don't let that fool you, the food here is fantastic!
The salmon soup in Helsinki is unbelievably good. A simple creamy broth filled with potatoes, dill and tender flakes of salmon. It instantly warms you up after a cold stint outside!
Doesn't it all look gorgeous? Their desserts are no exception..
Savotta
Ah Savotta, I've saved the best 'til last! Undoubtedly by favourite restaurant in the city. It's a dark underground space resembling the cabins of old Finnish loggers. The tables are dressed with gingham, the menus are carved wood and the waitresses wear old fashioned frocks. It's all super cosy and really gives you a taste of old Finland.

Reindeer soup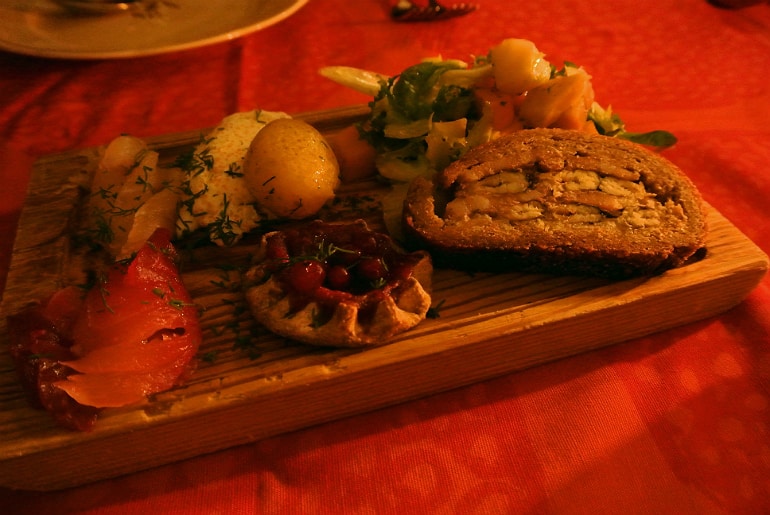 A platter of traditional Finnish foods: smoked fish, herrings in rye bread, smoked roe & lingonberry potato rye pie.
Karelian casserole: pork, beef and lamb cooked with loads of earthy herbs. Served with mash, lingonberries and pickled veg.
Reindeer & mash
Smoked Arctic char, on a bed of perfectly blanched vegetables, crispy potato wedges and a dill sour cream.
You'll see a theme cropping up on the menus: reindeer, lingonberries, blueberries & smoked fish are all very popular ingredients in Finland. I love that Finnish food follows the same hearty formulas as British meals, but with the addition of new meats and fruits it gives the dishes a totally new vibe. I always leave Helsinki saddened that I won't have reindeer again for a long time as its such a tasty meat; richer than beef but mellower than venison. Beautifully tender too!
If you're thinking of a taking a city break definitely consider Helsinki, it's a food lovers dream!