The first of the Winter festivities is upon us! It's all downhill (uphill) from here: parties, indulgent eating, getting merry, hibernating in your onesie… seems somewhat morbid that we kick it all off with celebrating the dead… but there you go!
After sitting around the house last year watching picture after picture being uploaded of people dressed up for Halloween and carving pumpkins when I hadn't made any plans, I vowed to be more involved this time around. In somewhat perfect timing I was sent a package full of baking goodies from website bakingmad.com to have fun with. Novelty Halloween baking here we come!
Okay, so Baking Mad is actually a really useful site for avid bakers looking for inspiration, there's loads of recipes as well as an advice section and most importantly, competitions to win free stuff! I also found a handy section on Halloween ideas which got my creative juices flowing. I chose two spooky cupcake themes: almond sponge with meringue ghosts and coffee infused chocolate spider cakes.
Spider Cakes
It's been a while since I made something really rich and chocolatey and I wanted to take it a step further by adding coffee, which makes regular chocolate flavour taste evolve into a giant chocolate punch in the face. The good kind. I found a coffee cake recipe but tweaked it slightly because as always, I think I know best. I swapped 40g of flour for cocoa powder and added 3 heaped table spoons of instant coffee instead of the coffee syrup & one of the eggs.
Whilst that rich cake mix was baking away I got to work on the adorable, not-in-the-least-scary spiders:
Daim Mikado
Minature teacakes
Writing icing
Silver Spoon chocolate designer icing
Silver Spoon coloured choco beans
Mini teacakes are perfect because they have that indent that looks like a smile, kind of reminds me of the Smash aliens! Using chocolate writing icing I stuck on the eyes and added some spider hair.
legs were little mikado segments. The daim ones add a nobbly effect, and they're especially delicious!
Okay, so the cakes were ready around this point. The coffee & chocolate sponge was absolutely divine; the coffee makes it almost a gooey, fondanty texture inside. Seriously tasty but very tricky to get out the moulds! I topped the cakes with the Silver Spoon chocolate designer icing.
I was quite excited to use this as I've always made my own and this seemed a perfect solution to quick & fun baking. It comes with 3 tips for different effects and I chose the large star tip for a thick, swirly effect on top of my cakes… sadly, I found the icing incredibly thick and hard to work with: prepare for hand cramp! I was also really disappointed when the icing didn't hold it's shape and within a few minutes it was completely flat.
Nevertheless, the show must go on. My spiders did a good job of hiding the lack lustre icing decoration.
Just look at those little guys! Kids are gonna love these… though you might want to forgo the coffee, depending on how lively they are.
Ghost Cakes
Onto round two! Venturing a little out of my comfort zone I stepped away from vanilla and tried an almond cake recipe, which turned out to be really tasty! To add a little novelty to the mix I included some yellow food colouring.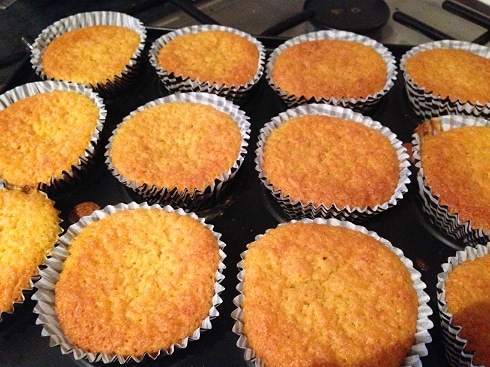 I guess this made the cakes a little more cartoony and appealing to kids. It also made a nice contrast with the blue designer icing I used. This time, I chose the smaller decoration tips and I found it worked a LOT better than my chocolate attempt, in fact it held really well in smaller amounts and the ribbon tip was particularly effective.
Spooky ghost ectoplasm! Speaking of ghosts, you will need:
Mini meringues
Writing icing
Silver spoon coloured choco beans
Mini meringues make a perfect ghost shape. You can of course make your own but y'know, kids aren't exactly going to congratulate your efforts! A little bit of icing later and you've got yourself a crew of ghost pals!
I'm actually a big fan of this almond cake recipe, it was a pleasant surprise. I experimented with a few and added a marmalade filling which was pretty good.
Hope you all plan on having a fun & scary Halloween whatever you get up to!