When it comes to food Q is a man of simple tastes. So I shouldn't have been surprised when, on offering to make him anything he wanted this weekend, he asked for a fish finger sandwich!

Initially I thought it was a cop out, but adding some home made charm gave this simple supper a gourmet twist. It's quick, easy and other levels of tasty!
The Fish Fingers
2 thick fillets of cod
150g plain flour
250g beer
Rapeseed oil for shallow frying
The Tartar Sauce
3tbsp mayonaise
2 tsp dijon mustard
2 shallots finely diced
80g diced gerkins
1tsp chopped capers
2tsp fresh lemon juice
Generous seasoning of black pepper
The Sandwich
Thick, crusty white bread or baguette
Salted butter
Baby gem lettuce
The tartar sauce is as simple as mixing all the ingredients together. And I promise you that this tartar sauce is spectacular, you'll want to smother as much in your sandwich as the bread will hold.
Next is fishy frying time. Each cod fillet should be cut in half lengthways to get two fingers per serving. For the batter, pour your flour & beer into a bowl and roughly whisk. Do not over mix your batter! You want it lumpy, repeat: You want it lumpy! The lumps are what give you those lovely bits of texture and crispiness. Dip your fish fingers into the batter and shallow fry in the pan, 4 minutes on each side.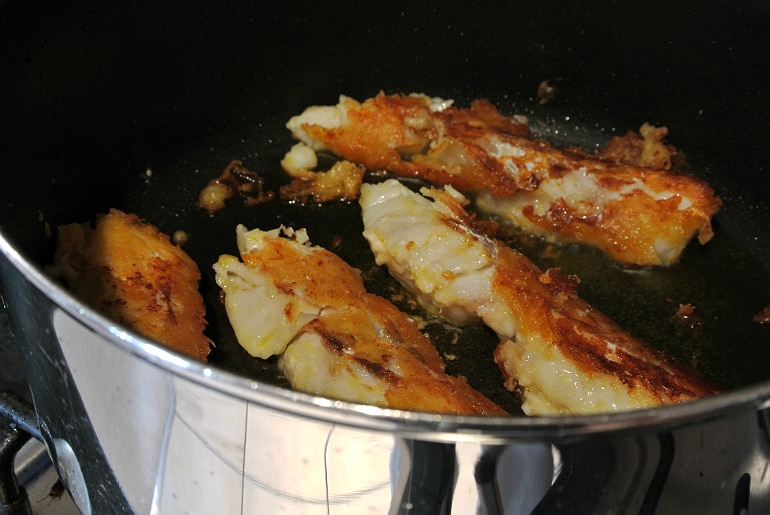 Once fried sprinkle with salt and an optional squeeze of lemon. Time to assemble your sandwich! Butter your bread, pile on that insane tartar sauce, then your fish. Top with a couple of lettuce leaves and you're ready to get stuck in!
This sandwich is gloriously messy and indulgent. The person with the most tartar sauce round their face at the end wins.