Hello there.
Well, in the eight years that I have been blogging this has been the one and only disappearance I have made. My extended break has been a mix of moving house, well mainly moving house to be honest, and doing it right before Christmas where life just goes a bit mad for a few weeks.
January, before it actually came around, seemed like a great moment to start writing again. Except in practice that just wasn't the case, because in a world that loves to neatly put everything into boxes, food is of course no exception. I certainly don't need to remind you of this having just survived January, emerging from a frankly horrible month where food becomes compartmentalised more than ever into New Year fads.
'Veganuary', the newest January challenge sees people cutting meat and dairy out of their diets with (if they're willing to admit it) no primary interest in protesting the farming industry or for any moral reason at all save for an internalised guilt over how much meat and dairy they ate over the festive period.
'Dry January' follows a similar pattern. I chatted with so many dry January participants this year who admitted that outside of Christmas they don't even drink that much; that drinking is saved for social occasions and binging is few and far between. Still though, it was very important to avoid that glass of celebratory champagne at that family gathering and they were very proud that they abstained. Because… well, because Dry January.
We all did our very best to make January even more depressing than it already is, huh?
*Yawn*
Tumble Weed
Winter in general is a funny time of year for food blogging. When I was starting out with Girl Eats World I had always envisioned the depths of Winter being a time when Restaurant invites and brand events would come flooding in. It's peak hibernation time, right? Pass the camera for the potato dauphinois! But nope, this is the quietest time of year for me and compounded by getting caught up in moving house (and losing that bloody camera charger) Girl Eats World has been ever so quiet the last couple of months.
Sorry guys. But if I may be completely self-indulgent for just one second, it has been reassuring that people have asked where I am. In an explosive and highly saturated time for blogging it's nice to know my little corner of the internet holds interest.
So here I am creeping out of the woodwork, finally! I've got to say it has been been sparked by all these New Year fads where food is demonised. As a food writer and food lover, it pains me to see food separated from any joy. At the start of the year it ain't vegan, seasonal, organic, made from scratch and clean: it's the worst thing in the world eh? Don't get me wrong all of these things hold their importance, but I cannot be doing with the preaching and self-righteousness. Count. Me. Out.
Probably my favourite TV moment of 2018 was watching Anthony Bourdain in Tokyo, amid discovering world class sashimi dashing unexpectedly into a corner shop to buy the cheapest looking egg sandwiches. "I just love these" he smiles at the camera. Anthony got it. He got food.
Looking back to food-loved moments
Soupy Dumplings at Dumpling Shack
This was on the 2018 hit list and after many months of drooling over their Instagram feed Q and I finally visited. Unlike so many 'Instagramable' food hotspots on London, this location isn't glamorous; there are no flower archways or bright colour schemes. Their draw is quite simply, delicious food in just a few forms. We visited right in the midst of that glorious heat wave. A hot stuffy day paired with hot and spicy dumplings seems an odd combo but it worked. Dumplings with crispy bottoms and a soup on the inside is a total party of textures. And the Szechuan spice dances on your lips in the best way.
Q's sticky pork
I could have shed a tear when he perfected this recipe. It is heavenly. Eat it with rice, eat with bao buns, just devour the whole damn lot.
Chicken and beer at Eugienie's
Okay admittedly this was discovered in January. But given I was in the Caribbean it can be forgiven for feeling like anything but January. After 5 years of visiting St Lucia I thrilled to have most recently discovered Eugienie's, and at the same time saddened that I haven't gotten to enjoy it sooner. Located on X beach along the boardwalk, you simply ask what they've got on that day and they begin to reel off a seemingly impossible amount of food given the size of the kitchen. I chose bbq chicken with rice, peas and plantain, all washed down with the local beer and enjoyed to the sound of the ocean. St Lucia is full of commercial restaurants; this meal beat many more expensive food experiences that I have had on the island.
Smoked chowder at Mhor 84
I've always said that food is about so much more than what is on the plate, and this simple meal really sticks in my memory for the fondest of reasons. After hiking around Glencoe and reaching the snow line (snow lines in April!) hidden away in the Lost Valley, Q and I returned down to sea level with cold extremities and hungry stomachs. We stopped off at Mhor 84 where I enjoyed this simple £7 chowder that warmed my very soul. Being awkwardly sat among a private party for a family celebration – speeches included – warmed my heart also… albeit in a more uncomfortable way.
That rib from Eat Street MK
Oh yes. More vegans means more meat for me and I was more than happy to indulge in this huge dinosaur looking bone. I am so glad I finally got to visit a few Eat Street monthly food events. Bring on April when they kick off again.
Paella in Marbella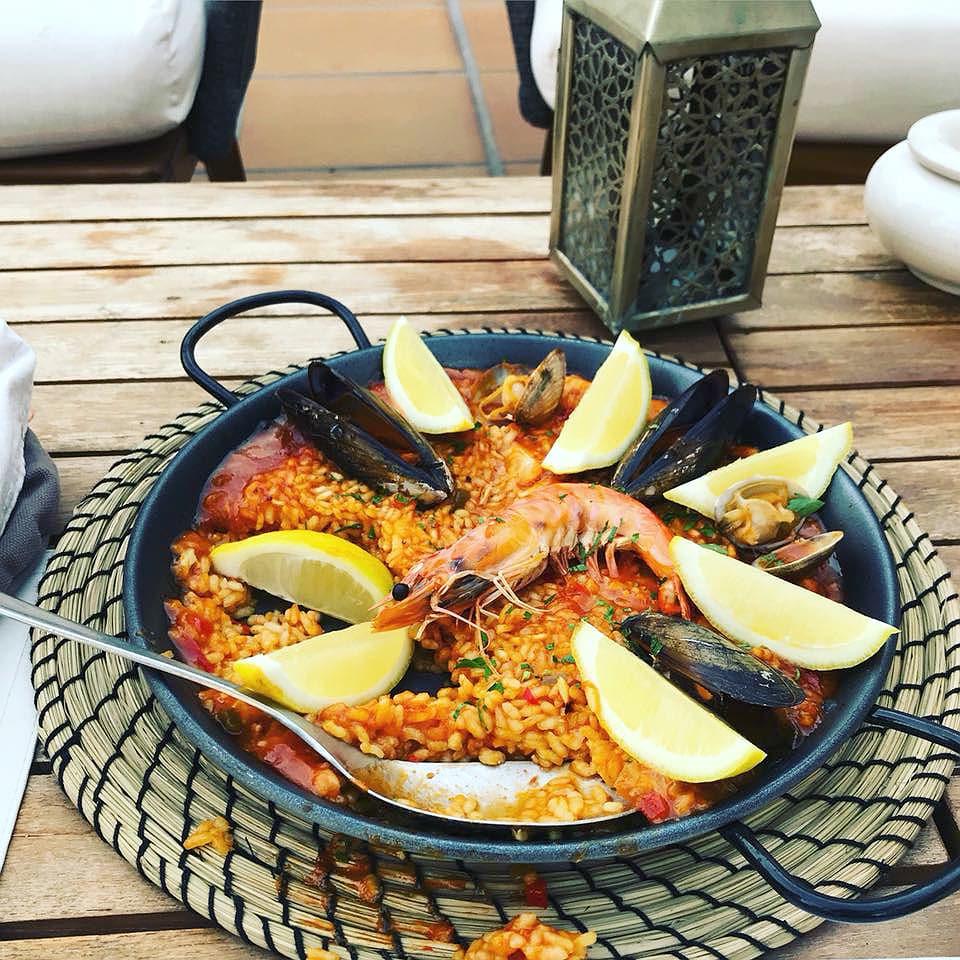 After staying awake drinking for 24 hours (and at 30 years old being bloody proud of doing so) and sleeping for just 5 hours before getting back on it again for the day, this paella was the soothing, motherly like hug that I needed at the end of it all. Paella is a beautiful thing, even if you do make a right ol' mess given the amount of vodka you've drunk beforehand.
Deep fried camembert with fig relish
I feel like us girls are supposed to act like we don't eat as much as we do. This was the day I ate the most rich and indulgent starter. I've never had a starter quite like it. So utterly rich and heavy that my main course became my Everest to eat. But I wouldn't change a thing. Warm oozing camembert in a crispy panko shell with a generous dollop of sticky fig relish. On a day that plummeted to minus 7c this was indulgence at it's very finest.
Looking Ahead
Here's to more unapologetic eating in 2019. All food groups, all price ranges, all cuisines. I cannot wait to fill my boots!
 Visit Japan. So help me God I will finally visit this country. We plan to go in October/November this year to catch the changing colours of the leaves.
Visit a new European city: In 2018 I had some amazing trips, but the majority were to countries I had visited before. This year I want to visit somewhere brand new to me.
Collate and publish my recipe book. I have been planning this forever and this year I really want to actually get on and do it. Whether it's an Ebook or a physical one (the dream), I've got loads of recipes already drafted and lined up, I just need to get on with the final stage!
Do something active and adventurous. I don't know what that is exactly yet, I just know that I sorely miss the adventure I experienced in Vancouver and am desperate to experience it again in some capacity. Where are the white water rafting facilities in South-East England when you need them?
Master bread. I took a wonderful bread making course in 2018 to learn the basics and I'm keen to build on that knowledge now. No more door stops. Beautiful fresh, homemade bread here I come.
Care Less, Post More: Frankly I'm bored of the 'perfect Instagram aesthetic' and I want to give myself more freedom to post whatever looks great regardless of whether it matches my last few photos.