It's no secret that I love independents! I love how much personality is injected into the brands, they're just a bit more fun, y'know? Food festivals are a great place to discover new small businesses so I eagerly went along to check out and report back on the Gather Food Festival at Stowe last weekend.
Of course in typical British fashion, after a week of glorious Autumnal sunshine the opening day of the event was met with black clouds and pouring rain! It was a great shame as it looked to have put lots of visitors off along with a few exhibitors, so the festival much more sparse than I had expected. On a plus the smaller crowds meant stall owners had more time to chat about their goods.
The cold weather drew us like a magnet to The Split Screen Bakery van, where we picked up a nice strong cup of coffee. I did chuckle at their sign which said, "I've never met a cupcake I didn't like." Couldn't agree more!
There was a mix of inside & outside vendors, along with a demonstration tent where local chefs and a few TV personalities were cooking.
Here a chef from Prego in Buckingham was making tiramisu with orange chocolate.
As you can imagine outside was somewhat deserted and we also took refuge inside the market tent whilst the rain carried on. In here was a bustle of cheese and chocolate and oils and sweets and pastries and everything in between!
The first purchase of the day came rather rapidly in the form of Stainswick Farm rape seed oil, infused with lots of delicious flavours. Their 3-for-£12 deal hooked us in and we picked up lemon, smoked and white truffle oils. Can't wait to get cooking with these! The smoked one in particular has a really interesting flavour that I think will go fantastic with beef.
Nibble Nose cheese had some lovely gift boxes perfect for you-know-what which is just around the corner.
This chap deserves a mention. He's only been going a few years and yet has somehow devised ribs that defy the laws of flavour physics. I was so busy throwing my head back at how tasty these were that I didn't get a picture of the meat, so you'll just have to take my word for it. He marinates pork ribs and beef in a special blend of spices, vacuum packs them and places them in a water bath. So all you have to do is grill these babies at home for ten minutes and you've got yourself the softest, most delicious meat going. We stocked up for Boxing day! Check out Rib Street
These knives were stunning; they felt amazing to handle and were terrifyingly sharp. Sadly the price was also terrifying, so they remain on my 'I wish' list.
Cider for true cider fans, Hitchcox ranged from woody and mellow to face-scrunchingly dry. Really, their 'Bone-Dry' brew had me pulling all kinds of faces! I had great fun trying out the collection and liked the gift packs they offered, at just £9!
This was probably the best looking stall I saw, Pig in The Middle sell every kind of sausage roll you can imagine. Picking just one was tough, in the end I went for a classic pork and black pudding for £2.50.
Oh the fun you can have for £2.50! I spent the next 5 minutes engrossed in this incredibly meaty gourmet roll, which was more like a meal than a snack! Loved the sprinkling of pumpkin seeds on top.
Aren't these pretty? I think macaroons are the most photogenic food there is! If I remember correctly each luxury flavoured macaroon was just 79p so after a lot of umming and aahing we picked a selection. My strawberry and banana one was really tasty.
Cherry Tree was another vendor offering every flavour under the sun, even a Pina Colada curd which really did taste like the real thing! Certainly couldn't imagine it on my toast but would taste great in a coconut cake. My family were won over by the caramelised onion chutney.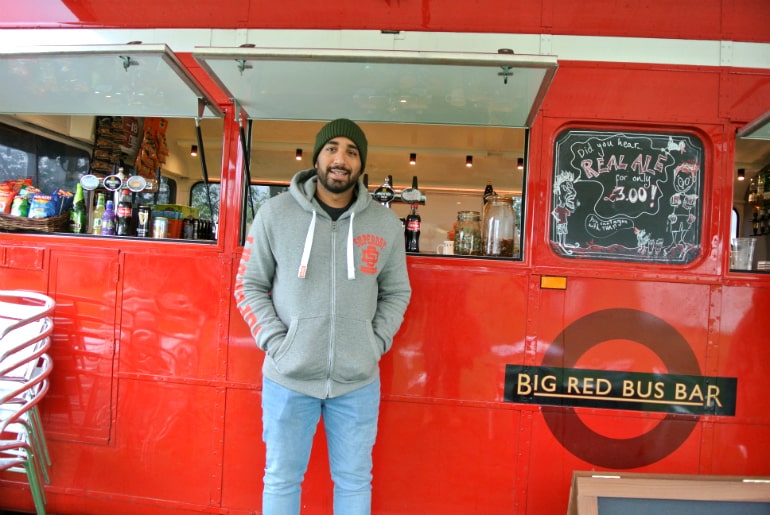 Doesn't look too warm huh? Which spurred on this purchase…
Mulled wine! Bloody delicious mulled wine at that, just what I needed. The owners of the Big Red Bus Bar must have noticed my cold expression, and invited us upstairs…
How good is that?! Big red bus bar might have to go on my wish list too. You can hire them you know.
Given the weather the festival probably could have benefited from a few more hot food stands, but the ones who were there certainly kept my taste buds happy!
The Roly Poly pork rolls with apple sauce and stuffing were huge! Fennel crackling was good, although it couldn't beat mum's!
And then there was these guys…
Los Churros Amigos! A young couple with an insatiable love for churros! In fact, we asked the girl, "Are you sick of churros yet?" when at that moment her other half strolled into the tent and proclaimed, "I luuuurve churros!" Well that's that question answered! Each batch is fried on order and rolled in sugar and cinnamon.
Not forgetting the pot of Belgian chocolate dipping sauce of course…
Happy campers.
Before leaving the festival we stumbled upon an apple market secretly hidden away in one of the barns. I got sucked into a pretty random competition: peel an apple on a bizarre contraption (you guessed it: now on the wish-list), and line the peeling against a tape measure. The longest, unbroken piece won a hamper of apples.
Guess who won? 😀
So it was certainly more of a gathering than a festival, but I think the tickets were only £5 so for that price you can't really complain, given the vendors who were there were both interesting and decent quality. We had a fun few hours hanging out and bought some lovely items which I can't wait to use at home! Did you go? Let me know what you thought and bought 🙂