Thank God for readers, there to tell me about great food finds that have slipped under my radar! Not too long ago someone asked me on Twitter if I'd heard of the Frozen Fruit co and whether they were any good. I hadn't, so the guys at Frozen Fruit co offered to satisfy my curiosity and just a few days later I had a box of their products hand delivered to my door by the lovely Victoria, co-founder of the company. Efficient or what?!
Knowing very little about them, other than what the name implies, I delved into the bits of literature that accompanied the samples. Turns out these guys have come up with the incredibly clever idea to invent delicious fruity desserts with none of the guilt of ice cream, frozen yoghurt or sorbet. There's three blended fruit flavours, all made from 100% fruit pulp and sweetened only with natural fruit extracts.
Guilt free ice-cream alternatives? Saintly sorbet substitutes? I'm listening!
The packaging on these little pots is so pretty. The individual sizes are enough for two moderate portions or one larger splurge. I'm not sure it can even be called a splurge at under 100 calories for each pot! Frozen Fruit co also offer larger tubs.
All three flavours have quirky names, I was told to try the Blackberryblue one first. This one has a blend of dark berries including (no prizes) blackberries as well as blueberries, which I loved the idea of as cold blueberries are delicious!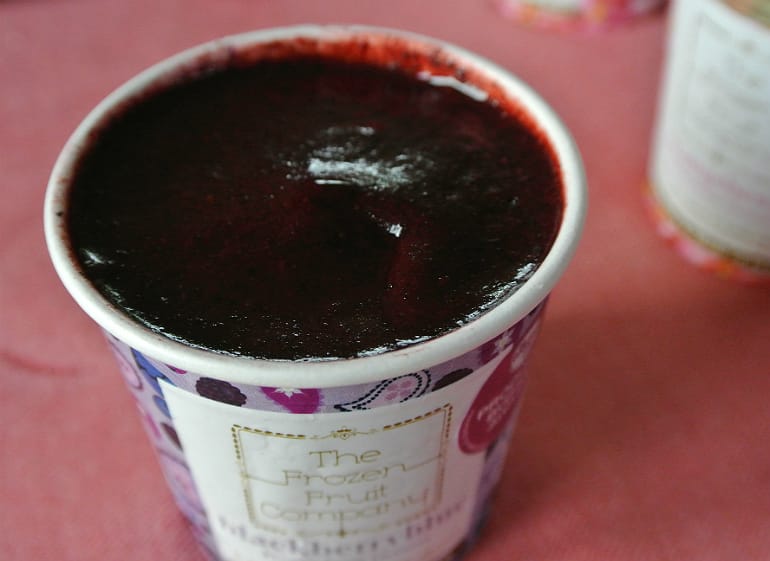 Popping off the lid I was surprised at just how dark the dessert was. Ice cream is obviously a pastel colour, and even sorbet is much lighter than this. I suppose the lack of other ingredients keeps the colour of the fruit pure. These desserts are spoon friendly as soon as they leave the freezer, so no waiting around for them to thaw out. They start out with that lovely ice/raspy texture sorbet has, and as they warm become soft and a little juicy.
Tasting it, there's no denying this is 100% fruit as the flavours are super intense. I could really taste all the different berries in the dessert and it's really fresh and sweet. It's that natural sweetness that's satisfying without leaving a weird taste in your mouth after.
Other flavours are equally fresh and powerful. The fruit flavours are really nicely balanced, they don't taste cheap!
In complete contrast to the mellow Blackberryblue, the Orangeberry flavour is vibrant and zingy and really wakes your mouth up! It's like a sweet slap in the face, very refreshing, very moreish!
Strawgo is a blend of mango and strawberries (nope, still no prizes!) and might just be my favourite. Mangos lend themselves so well to desserts anyway, and in puréed frozen form this dessert is just a total joy to eat.
Given the richness of the flavours they're actually really satisfying without eating a large portion… of course with nothing but natural sweetness, no fat and minimal calories you can afford to be generous. I'm honestly so impressed with how tasty these are, there is zero compromise on flavour in favour of health. Could this be film night snacks forever changed from indulgent to harmless?
Like lots of young products, they've not yet made it into the supermarkets. Trust me, this product is so good I've no doubt it'll make it in no time! Until then their website & Twitter page will help you out in getting your own.