If you haven't heard me go on about it enough on Twitter, I recently spent a wonderful long weekend in Bath! Setting off for Wiltshire around lunchtime we planned to stop somewhere along the way for a bite to eat. A little surf of the internet pointed us to a chain pub in Abingdon called The Flowing Well.
It's one of those really well decorated pubs that has traditionalists like myself making mental notes on how to model their own homes on the interior; lots of William Morris style wallpaper, thick curtains and gorgeously quirky furniture. I got drawn to a table that looks like something from Lord of The Rings, where we were seated with menus and a specials board.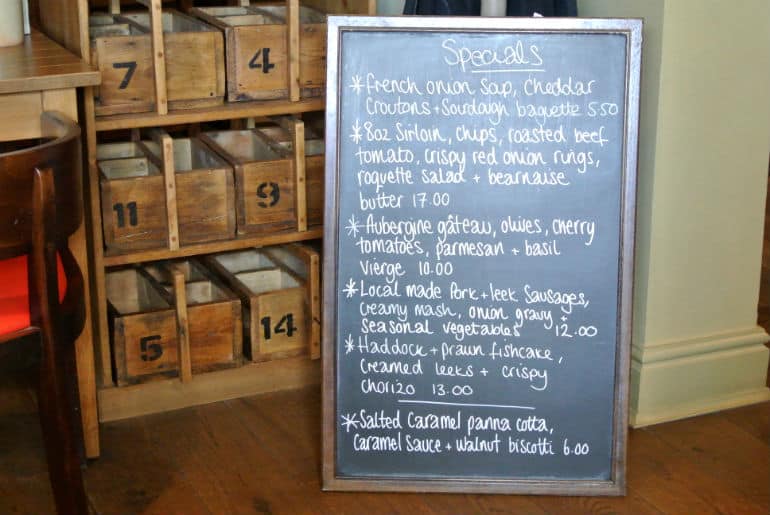 The menu has the real simple & classic Brit dishes, along with burgers, sarnies and interestingly even a 'British tapas' section. These sounded really tasty but I feared they wouldn't be filling, and at £4.50 a portion I opted for a meal that I could devour all to myself!
First out to the table was a very photo worthy fish & chips. This comes in small & large portions… and this was apparently a small! They must have accidentally brought the large, because just look at the mountain of chips! The fish was cooked perfectly, without that greasy after taste you can sometimes get. Best fish eaten in a very long time I was told!
I had ordered a roast beef sarnie, what I got looked more like a burger and I inquisitively inspected it. Roast beef had me picturing the kind of sandwich you make with the leftovers from your Sunday dinner, instead I got strips of beef marinated in a dry rub between a crusty bread roll. Despite the surprise, this really hit the spot! The bread was lovely and chewy without putting up too much of a fight, the beef and that rub was sweet, spicy and surprisingly tender. The sarnie came with a nicely dressed salad for some crunch and a really tasty honey mustard sauce.
The side of sweet potato fries were really great, soft and sweet on the inside with a lovely salty crunch.
Good find I say! Simple food and simple presentation, but all very fresh and tasty flavours. The Flowing Well is really large, if I was more local I could definitely picture myself spending many an evening sampling the menu or enjoying the outdoor terrace with a pint. We left well fuelled for the journey ahead!