I've mentioned numerous times how much I believe in making your own guacamole.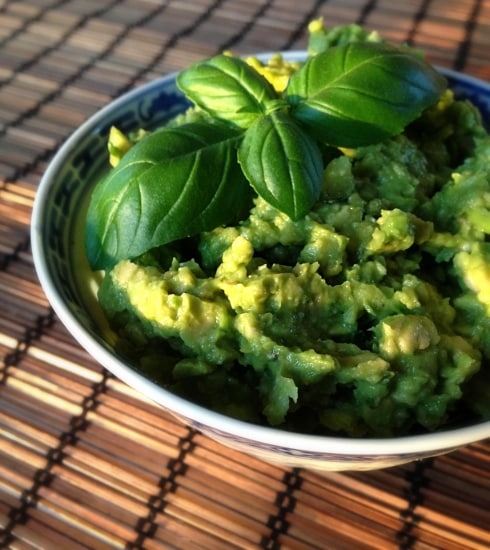 The clocks have changed, the sun is beginning to peak out from behind the clouds and before long we'll be panic buying charcoal for a freak heat wave! So it's about time I dedicated a post to my very own express guacamole recipe. It's an absolute doddle and skips out all the processed nonsense in the bought stuff. Plus the texture is a million times better: I really think that guacamole should be chunky! Not smooth like the shop-bought stuff; all blended and whipped until it resembles green ketchup with unidentifiable specks of what you can only guess used to be an onion or a herb. Blargh!
So here is my guacamole recipe. My version is creamy, super fresh and versatile. Deliciousness guaranteed.
Express Guacamole
1 ripe and soft large hass avocado
1 garlic clove
Half of one small, white onion
4-5 basil leaves
Pepper
Scoop out the avocado into a bowl. Take a sharp knive and slice through it until the texture is mashed but has texture. Don't use a fork or spoon, or you'll end up with supermarket mush.
Add in the basil and garlic. Both should be chopped finely, especially the garlic. You're putting the clove in raw and no one wants to chomp down on a mega chunk of dog breath. Chop it fine and mix in well so you get a nice even, firey hum through your guacamole! Basil may seem like an unconventional addition but trust me, it works! Avocado is so creamy and can sometimes have a kind of musty flavour. The basil cuts through that and adds a big zing of freshness!
Next, the onion. Chose a white onion that's small, baby size or a shallot is perfect. It's going in raw as well and needs to have some sweetness.
Finally, add lots of freshly cracked black pepper. You may be tempted at this point to salt your guacamole. Don't. There is no acidity in this recipe to offset it and it'll just overpower everything.
And you're done!
I don't care what tricks *they* say about squeezing lemon over to make it last a few days, guacamole has to be eaten fresh. But when it's so quick to make that's no problemo at all!
Go on, make the home made guacamole pledge. Your BBQ's will thank you.