Blueberry muffins will always be my favourite. I adore how moist and fruity they are; they are perfect for any time of day! My recipe for easy blueberry muffins will leave you with incredibly professional looking muffins with a lovely rustic look. They are packed with blueberries and a hint of vanilla and lemon, and topped with an oat and sugar crust. It's a lovely contrast in texture having that crunchy topping and lovely soft blueberry muffin underneath!
Easy Blueberry Muffins Recipe
This is a full proof, easy blueberry muffins recipe. Even better they are just so pretty looking – I get plenty of compliments on these whenever I bake them! They look like they're straight from a farm shop or country cafe. But of course they're a fraction of the cost!
Ingredients
2 eggs
110g unsalted butter, softened
1.5tsp vanilla extract
230g self-raising flour
150g granulated sugar
1/2 tsp salt
3 heaped tablespoons of sour cream
150g fresh blueberries
Zest of 1 lemon
Handful of rolled oats and sugar (for the topping)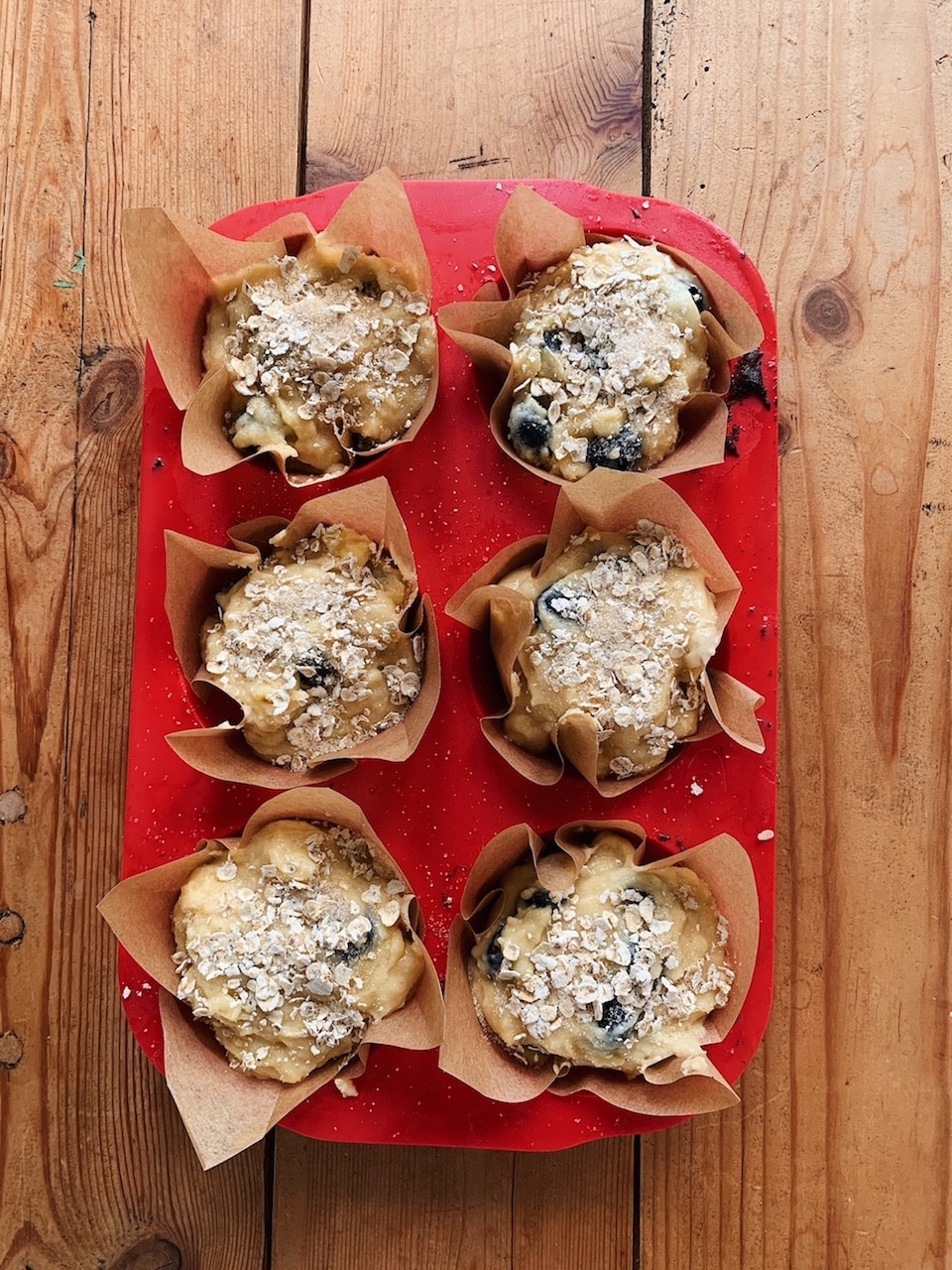 Method
Start by pre-heating your oven to 180c. In a large bowl whisk together the eggs, butter and vanilla. Once combined add in the sugar, flour and salt and fold in with a wooden spoon. Now add the sour cream and mix together once more.
Now add your blueberries and lemon zest and carefully fold once more; ensuring that the blueberries are evenly mixed into the muffin batter but being careful not to break them.
Take your squares of greaseproof paper and press into your muffin moulds. Once the paper is flat on the bottom fold any creases against the sides to make a snug case. Folds are fine and this doesn't have to look perfectly even – it adds to the rustic feel!
Spoon the batter for your easy blueberry muffins into the cases, filling about three-quarters high. Smooth off the tops with the back of your spoon. Now sprinkle on your oats and granulated sugar to top off your blueberry muffins.
Bake for 25 minutes. The muffins will rise quite a bit and the topping will turn a light golden brown. To check that your muffins are baked you can prick them with a skewer; if it comes out clean then they're done.
Allow to cool on a wire rack then enjoy! I told you these were easy blueberry muffins; they're perfect every time!
Recipe Overview
Print Recipe
Easy Blueberry Muffins
Delicious, rustic blueberry muffins that look picture perfect!
Equipment
Weighing scales

Large bowl

Electric whisk

Wooden spoon

Zester

Muffin tin or silicon mould

Greaseproof paper, cut into squares for lining the moulds
Ingredients
2

Eggs, medium

110

g

Softened butter

1.5

tsp

Vanilla

230

g

Self raising flour

150

g

Granulated sugar

0.5

tsp

Salt

3

tbsp

Sour cream (heaped)

150

g

Blueberries (washed)

1

Zest of 1 lemon

Handful of oats & sugar for topping
Instructions
Pre heat your oven to 180c.

In a bowl whisk together the eggs, butter and vanilla.

Add in the flour, sugar and salt and mix with a wooden spoon. Now add the sour cream and combine once more.

Add the blueberries and lemon zest and mix carefully to combine, ensuring you don't break the fruit.

Press your squares of greaseproof paper into the base of your muffin moulds, and press against the sides to flatten the folds. Spoon in the muffin mix to three quarters full and sprinkle over your oats and sugar.

Bake for 25 minutes, then cool on a wire rack.
How to store your blueberry muffins
You can keep your muffins for a week in an airtight container. Muffins are always best served at room temperature so if you pop them in the fridge, remove the ones you plan to eat about 20 minutes before munching.
If you fancy a proper dessert, try heating up a blueberry muffin in the microwave or oven and then serve with some freshly whipped cream and berries. Delicious!
What kind of blueberries are best?
Fresh blueberries will absolutely give you the best results for deliciously moist and fresh tasting blueberry muffins. I find that frozen blueberries are not as good quality and are often very tasteless, so even if you thaw these out they won't give you the best flavour. And whilst dried blueberries do have that concentrated flavour, they don't have the plump juiciness that makes a good blueberry muffin. One of the loveliest things it breaking your muffin open and seeing loads of colour from the berries.
Ultimately, fresh it best! Try to buy blueberries which are a medium size, because sometimes they can grow to a gargantuan size which isn't so good for even baking. If you do find any in your punnet which are really massive you can cut them in half.  And of course, give your blueberries a good wash and dry before they go into your muffins.
Rustic muffin cases
Using greaseproof paper is an incredibly easy and low cost way to create a beautiful rustic feel to your easy blueberry muffins. However, if you fancy some ultra convenience then check out these lovely rustic muffin cases that will give you the same effect.
More Recipes
Love fresh and fruity baking? Then here are some other recipes that I think you might like if fruity baking is your thing:
Follow Girl Eats World
I love to see you try my recipes – it really does make my day! If you try this recipe for easy blueberry muffins, be sure to share on Instagram. All of your baking and cooking is shared to my profile. Just tag me or use my hashtag so I can see your creation!
My Instagram: @jogirleatsworld
My Hashtag #Cookiteatitliveit
Pin a pic for later
I hope you love the sound of these easy blueberry muffins. If you fancy making these, then keep the recipe safe for later by pinning a pic.