Disclosure: Our stay was complimentary. As always all thoughts are my own.
We arrived to find The Rose & Crown conveniently perched right on the market square. Entering the pub there was a busy atmosphere of locals and visitors alike relaxing away their Saturday with a few drinks and nibbles. I spotted nibbles for furry friends before realising there were numerous dogs dotted about the place, much to Q's delight!
After checking in at the bar we were led back out to the square and around to a nearby, separate building inconspicuously accessed by a single red door hidden among shop fronts. I whispered to Q that we'd have to remember where the door was when coming back home later in the dark after a few drinks!
As soon as the door closed behind us there was a sense of security. The market on the square was in full swing and the cries of deals on fish and black pudding were left behind as we travelled up the stairway to our room. The inn is surprisingly spacious once you get above the ground! We were led to our home for night in Room 11.
The room is clean, country and classic. I felt instantly content at the sight of the low sun streaming through the window, and the sound of quiet piano playing on the radio to welcome us in.
The room is spacious with full wardrobe, hot drinks and snacks table, armchair and dressing table, and sofa.
The bathroom is perhaps the most pleasant surprise in the room; it's much larger than you'd expect! Complete with his and her mirrors, power shower and an ornate, freestanding bath. Lots of room for pampering yourself. Lots of romance for a couple.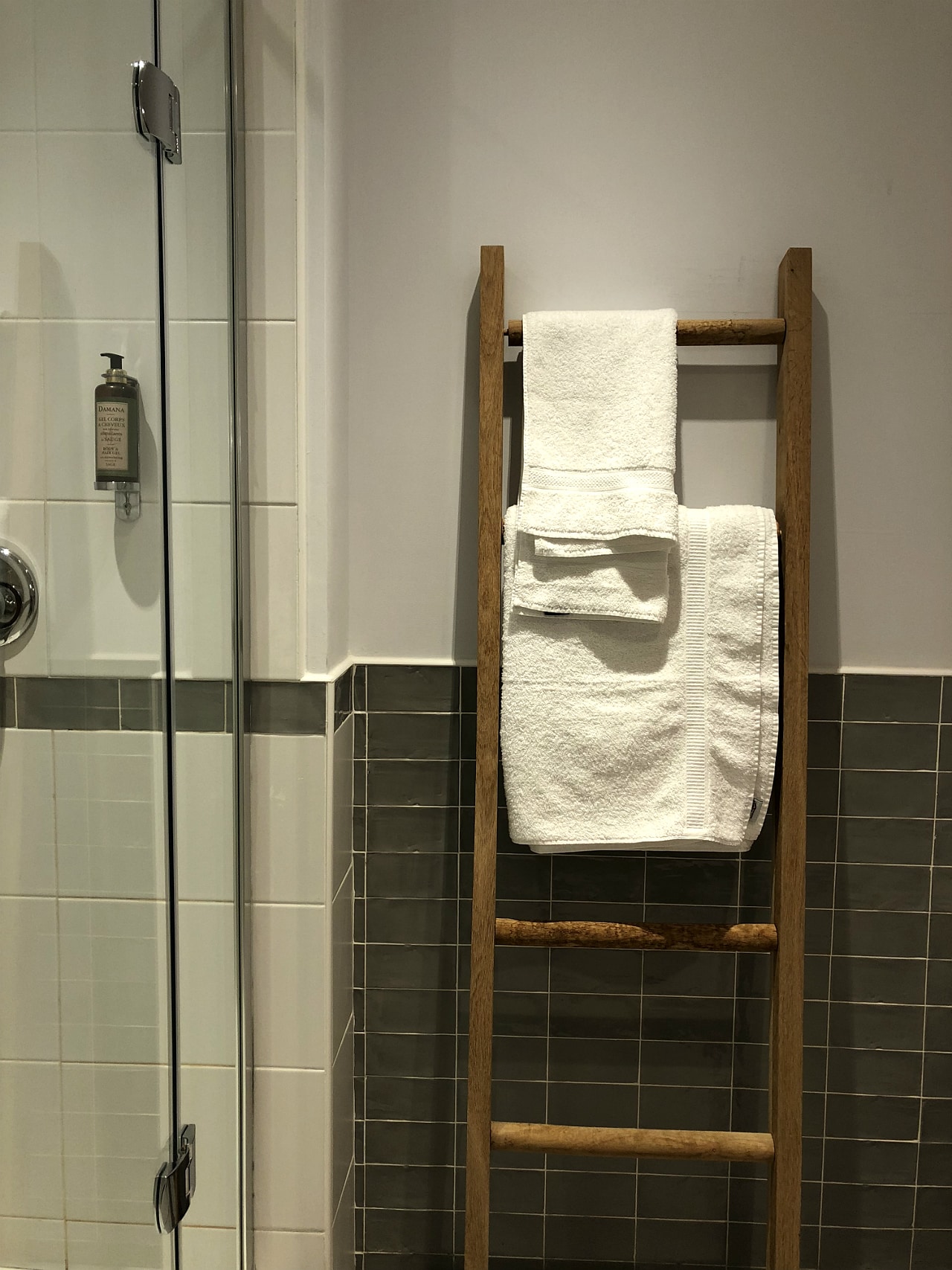 It was so very quiet in our room; it felt comfortably cut off from the outside world. We arrived in Warwick at the beginnings of the Beast From the East, so the -7c conditions took a little while to face when our room was so peaceful and cosy.
But,  piling on layer after layer, wrapping my scarf around my face extra tight and engulfing my head in a big fluffy hood, we crossed the threshold of the little red door and ventured off to explore Warwick.
Warwick is the kind of place that I enjoy just mindlessly wandering around because it's so quaint. It's got that medieval charm of York, but on a smaller scale. I'm a sucker for ancient buildings and living in Milton Keynes, a city just 50 years old, I'm robbed of the daily pleasures of old architecture. Warwick was a great place to scratch that itch. My favourite find was the Lord Leycester Hospital:
Isn't it wonderful? Like something from Game of Thrones.
We took in the sights (me bookmarking all the places I wanted to live) and dipped in and out of pubs along the way for a drink or two. But as the sun dipped below the horizon it became absolutely Baltic!
Having eaten such a gargantuan meal for lunch my stomach (surprisingly) wasn't too interested in food for the evening. That mighty Camembert starter really did a number on me huh? I focused my evening around cocktails instead.
Despite being a Saturday night the town felt sleepy, and I turn felt the same. The cold turned us in early, as did the thought of that lovely, gentle room. We spent the last portion of our day watching The King's Speech (a suitably gentle and British film to match the theme of the weekend) and fell asleep to Classic FM.
I woke up feeling extremely refreshed from a lot of much needed sleep. After a wonderful shower we strolled across the square to find the Rose and Crown once again bathed in sunlight, but this time the pub was much quieter, save for more dogs making the occasional bark at each other!
We picked a rustic table by the window which was a lovely sun trap for enjoying our breakfast. The breakfast menu is strong, ranging from £4.95-£10.50 with about a dosen things to choose from. Breakfast is included with a room booking. I was close to picking the porridge which sounded lovely and wholesome with dried fruit, toasted nuts and seeds and honey. But I saw eggs going to another table which swayed my choice.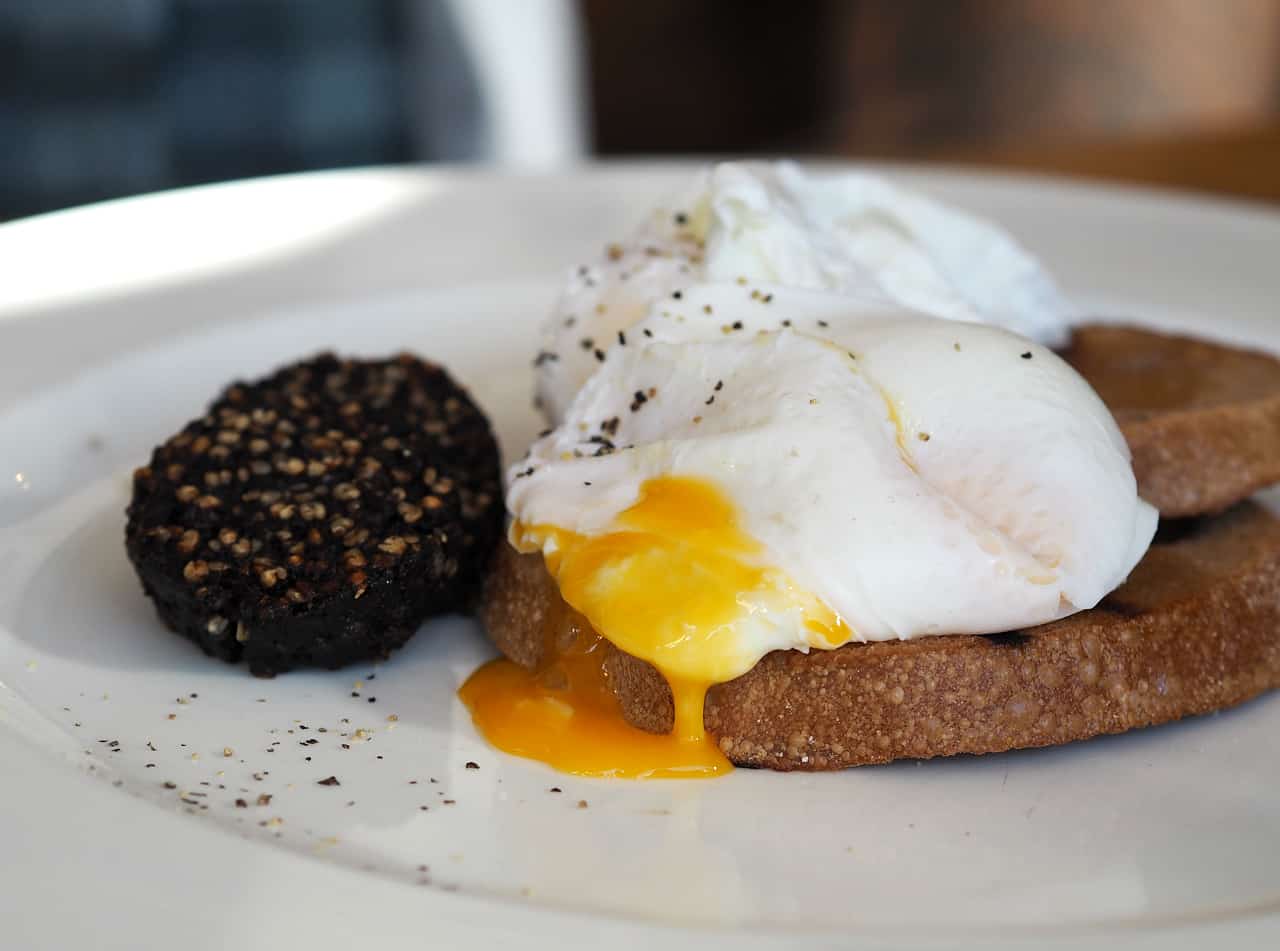 Simple but satisfying. Every one of our eggs was perfectly runny and I took great satisfaction in slowly pressing my knife into them and watching them burst.
My coffee came with a little bowl of sweets. It's something not many places do: why not? Smarties with your cappuccino on a Sunday morning is joyful!
I'd like to tell you that we did more adventurous things in Warwick and that I left with a hangover. Perhaps if I'd gone in my early twenties that may have been the case. But our stay was so wonderfully relaxing that our visit in turn was a very calm affair. I have no apologies for that: anyone with a busy life knows the joy of taking a breather. Enjoying rustic, new sights in an unvisited town, dipping in and out of new places for drinks, relaxing in a peaceful, comfortable room and enjoying a leisurely breakfast. Sure it wasn't eventful, but it was memorable.
Rooms range from a very reasonable  £60-£110 and if you're looking for a getaway for de-stressing and gathering your thoughts the Rose & Crown is a top spot for just that.