Disclosure: our meal was complimentary. As always all thoughts are my own.
As we strolled past Warwick Castle and stopped to poke our heads through the iron gates and peer up at the flags above the turrets, I turned to Q and said: "Did you come here with your school when you were little?" to which he answered "Of course".
And of course the answer was of course; who didn't come here as a kid?! It didn't take long to realise that whilst yes, we had both been to Warwick but at the same time we hadn't really been here. We both had no recollection of what the town looked like and I spent the first half of our stay convinced that I came here on a night out many years ago, only to realise it was in fact Windsor that I had been.
Basically, I'm calling this my first time in Warwick. My first real time in Warwick.
If you read my 2017 best nine you will have seen that I have the travel bug. I guess it's more of an 'explore bug' because it's not only for overseas. I'm becoming increasingly aware that there are still so many major cities and towns and nooks and crannies right here at home that I am yet to discover. And I am very keen to make an effort in becoming a tourist in my own country. So Warwick gets the title of my very first 'new' place to visit in the UK in 2018.
But first, lunch
Just one hour away from Milton Keynes, it was an easy drive and our first stop was to Kenilworth which is just 5 minutes beyond the centre of Warwick, where we were stopping for lunch with Peach Pubs. At The Almanack we were greeted by Ania the general manager who welcomed us in from the bitter wind with a warm hug. I like huggers. More genuine than an air kiss in my opinion.
She took us to our seats at a lovely round booth that offered cosiness and privacy, save for popping your head above the leather like a meercat to have a look around. The kitchen pass was our view (fantastic people watching – I love observing chefs at work!) and a large chalkboard displaying the specials which was placed before our table.
We had arrived cold and ravenous so we started the meal with a nibbles board, which I have grown to love in at my local Peach Pubs. A hot miniature loaf and butter flecked with herbs and marinated garlic as well as a bowl of plump olives. The Almanack also serve on their nibbles platters hot toasted almonds coated in sugar and spice. Q and I couldn't get enough of these; the last of the cold in my fingers was gone as I picked at them.
The starters set the tone for the entire meal: you're getting well fed. Wow – The Almanack are not shy with their portions! My deep fried camembert came unapologetically large: a giant circle of crisp panko breading, under which hid a melting, so-wrong-but-so-right, yes-I-am-going-to-eat-it-all cheese lover's experience. The richness of the Camembert is cut with a generous quenelle of sticky fig relish, served on a bed of rocket leaves.
I feared I would later regret devouring this entire dish but I just could not stop myself from enjoying every. last. bite.
I sipped my prosecco and continued to find my hand wandering over to those almonds. Suddenly I became aware of how full I felt! But I'm always up for a challenge. Food does not defeat me easily.
Apparently the cold had me in the mood for breaded food, because here I was with another crispy coated dish. This time a generous fishcake, served on *the most* comforting soft leek and mustard sauce. Not the light dish that fishcakes so often are. This one has attitude.
Q went for a simple but well executed flat iron chicken with juicy hot lemon and tender confit garlic cloves. Lemony skinny fries are the one on a Saturday lunchtime!
For dessert was a shared apple tart on the recommendation of Ania. It arrived with a thick and sticky caramel that reminded me of Indian Jalebi. If it had come with ice cream rather than cream this would have been perfect. (What do you prefer?)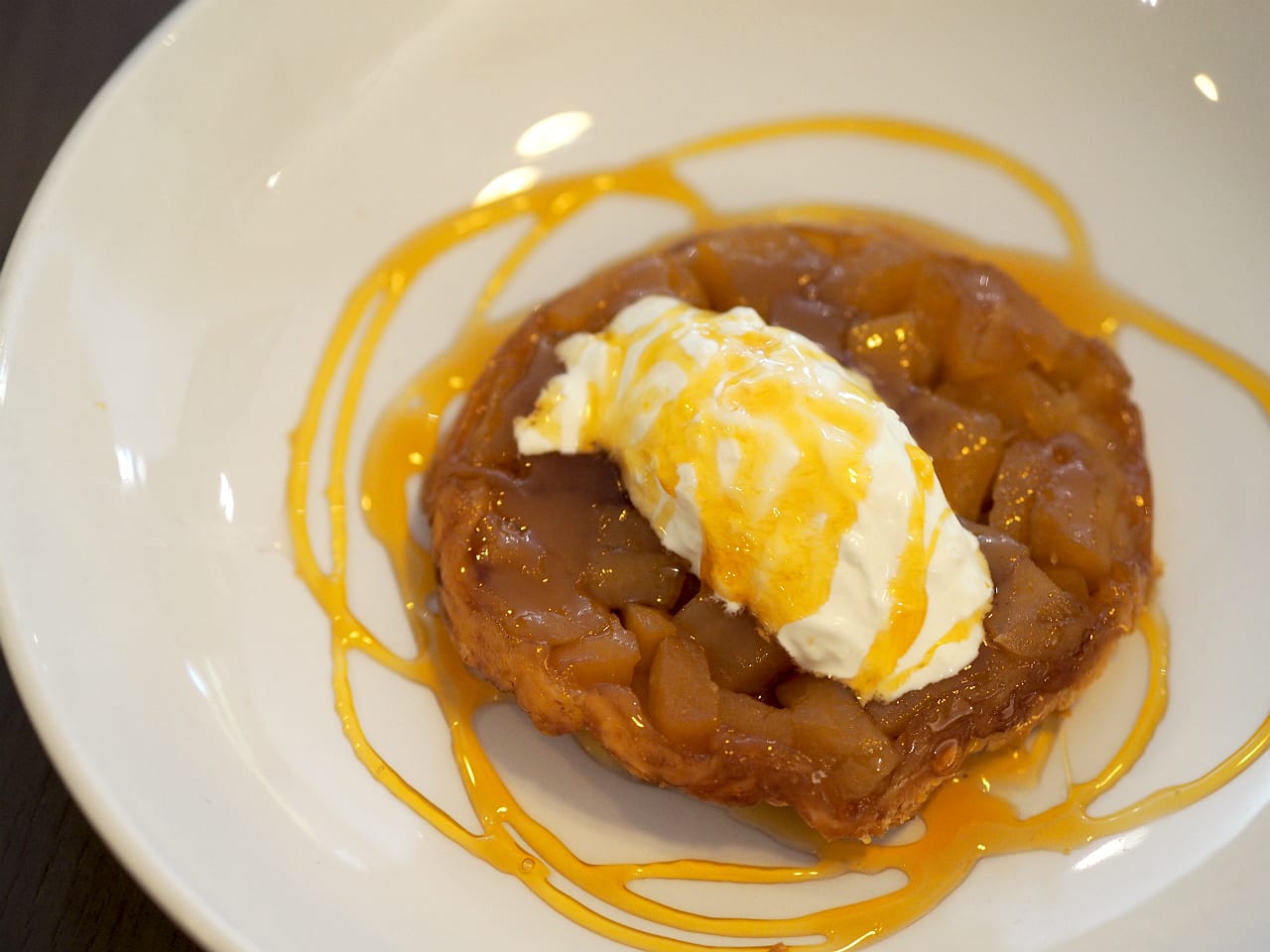 Starters range from £5.50-£7.50 and mains £13-£18, so a good value meal, particularly given the portion sizes! We emerged from our booth happily stuffed and very much in need of a snooze. Blinking our way back in the crisp sunlight to the car and headed off to our base in Warwick for the weekend…