It's a commonly discussed theory that removing one sense can heighten another. I'm not sure to what extent the effect is, but I hear that some London restaurants offering dining in the dark experiences employ blind waiting staff as they can better deal with the environment.
A little closer to home, the Calcutta Brasserie were holding their own dining in the dark event and invited me along to see what I made of it all.
Now, if any venue is going to do dark and moody dining, there is none better suited than the Calcutta. The re-purposed church setting is stunning at the best of times, but when bathed in darkness save for the fluttering of candle light, it looked quite breath taking.
Rhythmical Indian music played and guests softly chattered to each other over candles.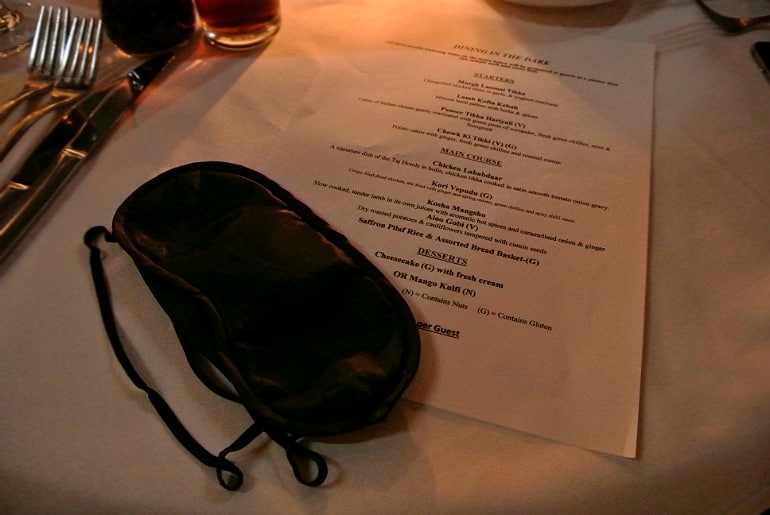 Waiting at the table along with our menu was a blindfold and instructions to take turns going blind and trying the food. I liked that this was more of an optional element to the evening rather than compulsory, prior to this I had worried the evening could be gimmicky, but it was instead just good fun. I did of course have a go…
Not wanting to ruin the atmosphere for other guests I kept my flash off, so capturing the food was a little difficult! It was bloody delicious though; a mix of lamb, chicken and veg dishes, along with a mix of mild and spicy. We both agreed it was a seriously generous spread, which we were eventually defeated by despite enjoying it so much, particularly the lamb! I believe the cost was around £19 a head, which seems reasonable for a specially arranged evening.
Calcutta Brasserie have thrown a couple of these events now and I can vouch that it's a very enjoyable dining experience; something a bit different from the norm! Absolutely ideal for a romantic meal out as well, watch out for the next one they throw!