Winter is coming! The trees are losing their green, the air is turning crisp and the nights are starting to draw in just a little bit earlier than I like. The coming cold weather means it's back into Sunday roast season, oh how I've missed it! Whilst my parents are still clinging desperately to the last of the BBQ's for 2013, I've turned my eye (and my stomach) back towards roast potatoes and gravy.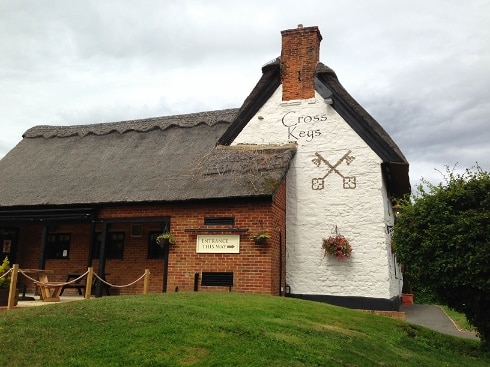 The Cross Keys is a little pub nestled away in one of Milton Keynes' scenic hotspots, and on walking through the front door we soon realised just how little it was! Small & popular on a Sunday lunchtime is a recipe for disaster when you've visited on impulse. We were treated to their both adorable and hilarious unreserved table…
It doesn't get more intimate than that! We were still chuckling in our cubby hole and rearranging our knees around the table when out came our starter of bread and dips, served on a slate board- hoorah!
A decent spread for 4 quid. Still warm the tomato flecked bread was perfect for dipping.
Among the hummus and tzatziki this tomato salsa was my favourite.
So onto the main event! 3 choices of meat: turkey, pork or beef. I went for my good pal Mr Cow, who arrived blushing pink.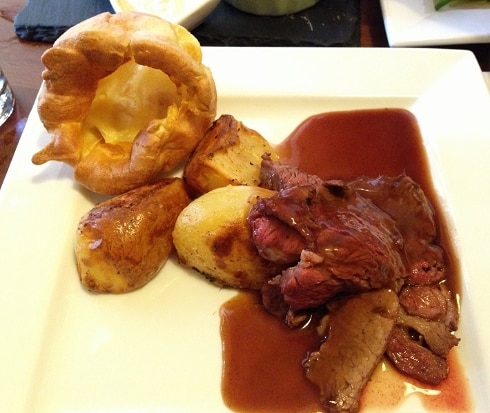 I loved the presentation of the sides, with a hearty serving of horseradish and a deliciously rustic ramekin full of cauliflower cheese.
The vegetables were fresh but a little too underdone. Mind you, I'd much rather them like that than turned to mush.
Not a bad plate of food for under a tenner eh? I was certainly impressed, Sunday roasts can be something of a test for a pub's credibility and the presentation and quality of this meal proved to me that the Cross Keys have a competent kitchen.
PS – They've got a very famous, very secret rock legend performing for them on 28th September, if you're interested in finding out who it is why not pop along?