Picture this; as you spot your old julienne slicer hidden in the back of your cutlery drawer and think up a wonderful alternative to pasta, using courgette ribbons instead. "I'll call it courgetti!" you exclaim, pleased at how witty and creative you are… only to discover both the invention and the name have already been created a long time ago. Damn it! Still, here's my take on things. This is another clever recipe that's about taking carbs out of your meal without making you feel as though you're missing out (too much).
You'll need about 1.5 to 2 courgettes per person. The biggest tool in your arsenal is a julienne slicer, you can get these in more specialist cookware stores, I got mine from John Lewis. It's similar to a peeler, but it also has blades that cuts the peelings into strips at the same time.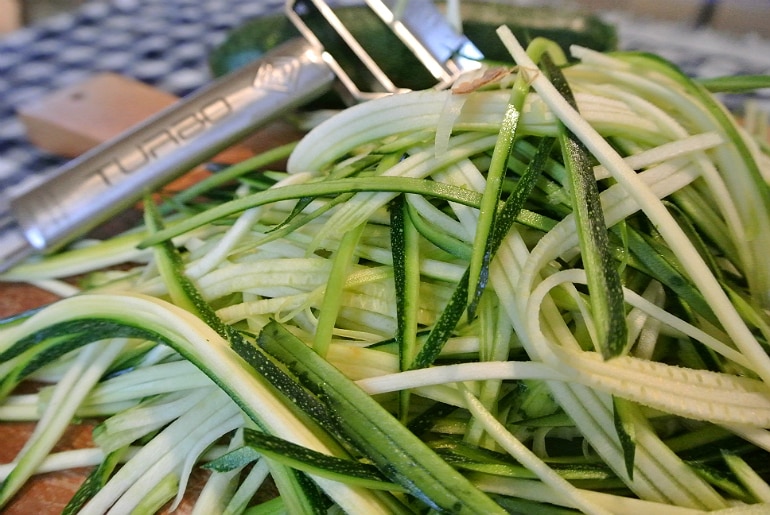 It's so fun to do! Very quick as well, the courgettes peel very easily. Keep peeling until you hit the seedy core, then turn the courgette and repeat. You'll be left with a little core that you can either discard or save for something else.
Cooking the courgetti is very quick, as the fine strips don't need much cooking time. Add them to a pot, cover with boiling water and leave for 2 minutes before draining. The courgette strips need to be nice and softened, so that they act in the same way as spaghetti, but they still need a little bite so they don't fall apart.
Add your courgetti to a sauce & meat of your choice, I made a quick green pesto sauce with chicken & vine tomatoes.
Pesto Sauce
1/2 jar of good quality green pesto
2 tbsp herby cream cheese
8 vine tomatoes, sliced
1 tsp balsamic vinegar
Seasoning
Add everything to the pan and let it simmer for a few minutes. If you're using meat, cook this in the sauce so it's nice and tender. Add the courgetti last thing and gently stir it through the sauce.
Pretty convincing huh? I was really impressed at what a satisfying alternative it is, I think the real winner is how convincing it looks; it really tricks your eyes into thinking you're eating something much more delicious than what is essentially a bowl of vegetables.
The texture of the courgettes when cut into thin strips for me was much nicer than eating big chunks of vegetables, and I love that you can twirl the courgetti around your fork like the real thing!
Courgettes are pretty mild in flavour so they lend themselves well to any sauce you fancy. It looks like a lot of work but it's actually so easy and quick, the entire meal took just 15 minutes to make which gives this meal major brownie points for me. There's nothing worse when you're cooking a healthy meal for it to be really inconvenient as well.
Here's my final selling point for trying this tasty little carb alternative: 100g spaghetti has 158 calories, 100g courgette has 17 calories. It's a no brainer right?!