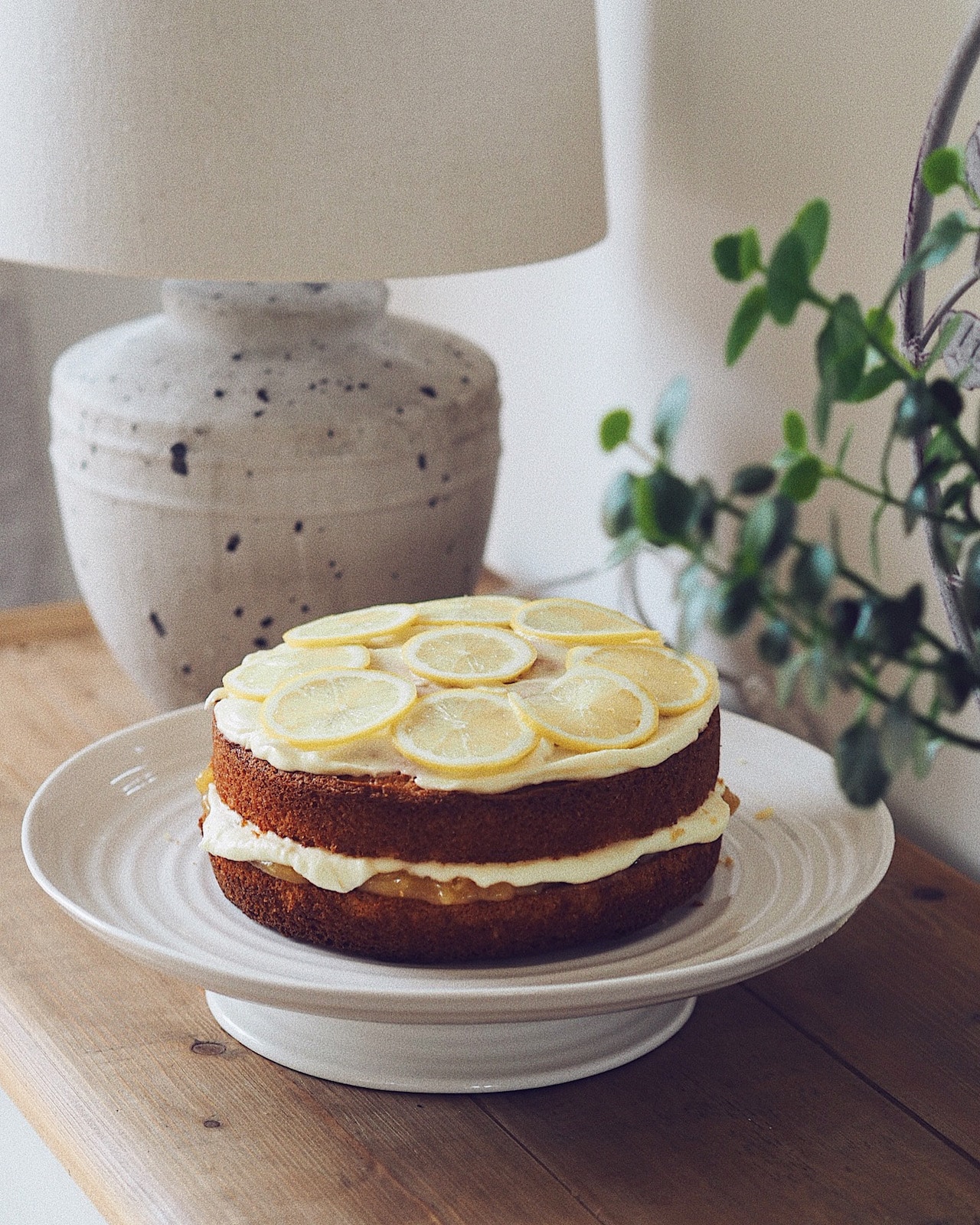 The term 'don't mess with a classic' is there for a reason. Some things are there to be enjoyed in their timeless, wonderful form. For me, a classic lemon cake is one of those things. It is also (controversially?) my favoured cake over jam sponge or chocolate! What can I say I'm a sucker for the sweet meets zingy flavour. And they're just such happy looking cakes y'know?!
For this recipe you'll be making rich and buttery lemon zest sponge, with a sandwich of zingy lemon curd and sweet lemon buttercream, topped with more buttercream and finished with fresh lemon slices. The perfect celebration of lemons and perfect for anyone who adores lemon flavoured baking! Lemon lovers unite!
Those thick layers of lemon curd and buttercream spilling out a little from the middle.. I love to see it. Getting your filling riiiight to the edges is so key to making a classic cake look rustic and beautiful.
Classic Lemon Curd Cake
2x 23cm cake tins
250g butter
250g caster sugar
250g self raising flour
4 eggs
2 tsp vanilla extract
1 tsp baking powder
Zest of 2 lemons
Lemon Curd Cake Fillings
Juice of 1 lemon
150g butter
200g icing sugar
Half a jar of lemon curd
Make Your Lemon Cake Sponge
Start by pre-heating your oven to 180c and greasing and lining your cake tins.
In a large bowl whisk together the butter and sugar until light and fluffy. Add your eggs, vanilla, lemon zest and baking powder and mix in thoroughly. Sift in your flour and fold in gently with a wooden spoon until fully combined into a smooth cake batter.
Evenly distribute the lemon cake batter between your two tins and bake for 30 minutes, or until a cocktail stick stuck into the cake comes out clean. Once baked, remove from the cake tins and leave to cool on a wire rack. Wait until they are completely cool before you begin assembling your cake or decorating.
Make Your Lemon Cake Fillings
In a clean bowl make your lemon butter cream. Whisk together the butter and icing sugar, ensure that the butter is room temperature and very soft so it blends into a smooth, light and fluffy buttercream. Squeeze in the juice of 1 lemon and mix well.
Now in a smaller bowl, add your lemon curd. Lemon curd can be ever so thick, so before spooning onto the cake, add a teaspoon of water or two and stir it up until it has become a little more loose and easy to work with.
Now here comes the dilemma! Closely related to the one with the scones and whether you put jam before cream… and I say yes you absolutely do. So I'm applying the same logic to the cake and adding a thick layer of lemon curd first to the bottom cake half, before topping with the fluffy buttercream. You might be a cream-first kinda person but with lemon curd I really feel it works much better to spread this on first, as the thicker of the two fillings.
When filing your lemon curd cake, be sure to get right to the edges with the lemon curd and butter cream. Every bite of the cake should be full of delicious lemon flavour. Be sure to save enough buttercream to decorate the top of the cake too; a few large heaped spoonfuls should do the trick!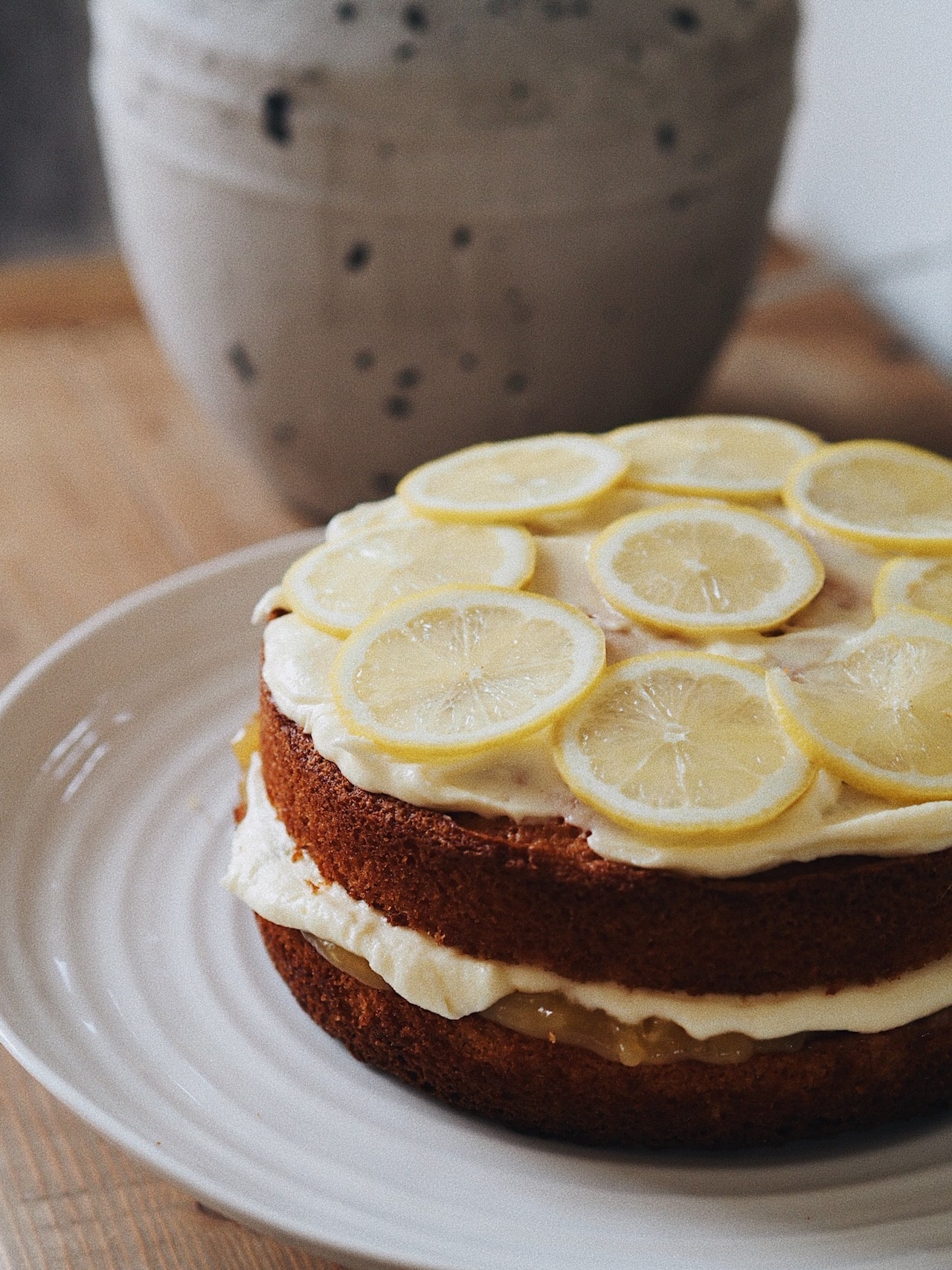 Decorate Your Cake
Once a layer of lemon buttercream has been spread evenly to the top of the cake, you can finish with some decoration. I love to use fresh lemon garnish, as a true celebration of the flavour! Slice a lemon into very thin slices, you'll need 8 or 9 slices, and arrange on top of your cake. You can use the leftover lemon which you zested; the slices are so thin that you will not notice that the rind is missing a little yellow. No wastage!
Pin it For Later
I hope that you love this recipe as much as I do! If you give it a go I would love to see; you can tag me at @jogirleatsworld or use my hashtag #cookiteatitliveit.