This time last year I made Christmas rum truffles for my family and they were a huge hit. My grandma still raves about them and put in an order for more in September! This year I ventured out and created a few extra flavours. The great thing about truffles is they're very easy to make, and once you have the main recipe for the ganache perfected you can add any flavours you like.
I think little handmade gifts like these are really lovely to hand out to friends and family at this time of year; any time you get invited to dinner or a party you can turn up with a box of truffles and know you've given something much more meaningful (and delicious!) than say a bottle of wine.
The first batch I made were the rum truffles again, this time with a little bit more rum! Make sure you use good quality chocolate as it seems to carry the flavourings you add to the ganache mixture better.
Don't you just want to grab a spoon and eat it straight from the bowl?! Truffles are best made over two days: the first to make the mixture, then leave to chill overnight before forming into truffles and decorating. If you're impatient like me this bit will kill you!
Form your truffles however you fancy; I rolled some into perfect little balls and others I formed into rough dollops with little peaks here and there. Either way try not to make them too large as truffles are extremely rich!
This year I also made coffee truffles as well as white chocolate and vanilla. Add your cream to the white chocolate bit by bit, as it cannot take as much liquid as darker chocolates. This truffle will always be naturally a bit softer.
Now, decorating your truffles is where you can really have some fun! Again, you can do this whichever way you please and to be honest I think the more creative licence the better! You can roll them in cocoa, dip them in chocolate, top with sprinkles, drizzle with a different kind of chocolate… go wild!
Dipping truffles into chocolate makes them easier to handle, as it gives them a hard coating once it's set. Once you've chilled your truffles again they're ready to be shipped out to hungry loved ones! I went to hobby craft and got some adorable little red boxes and gingham ribbon.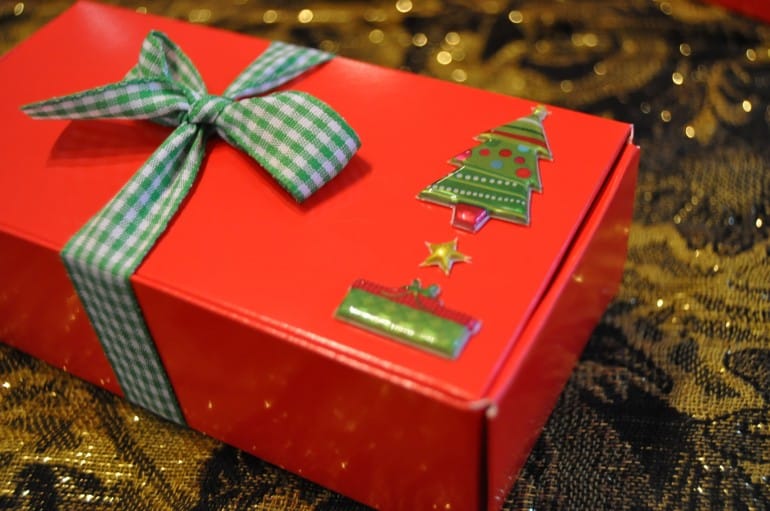 Added some stickers to the boxes as well. Why not? It's Christmas! Fill your boxes with a selection of your home made truffles and keep them in the fridge until you give to your loves ones. Because these truffles have no preservatives in them they are best stored in a cold place.
Give these a try because they're absolutely delicious and a great gift to give during the party season!
This will be my last post before Christmas so I want to take a moment to wish you all the best time ever! Thank you for stopping by and reading 🙂