Through a beautiful stone gate in the countryside…
Down a long, narrow track lined with mature trees and herds of grazing deer…
There's a beautiful black and white house…
This, is Paris House. Home to Michelin recommended fine dining, lead by owner and chef Phil Fanning. Q and I were invited on this beautiful crisp day to sit at the chef's table, right in the kitchen to experience the festive 6 course tasting menu.
Having never experienced a chef's table before we were mega excited. I love open kitchens so the idea of being that close to the action was really appealing to me. As you drive up to Paris House it's hard to believe that it contains a restaurant at all; perhaps it's the chocolate box appearance which makes the building seem toy-like, or maybe it's the 22 acres of Woburn estate which swallow the house up, but it appears ever so small and quaint from the outside.
Entering into the lobby it is certainly quaint, but revealed is a reception seating area and leading on from that an intimate dining space. Each window offers a glimpse out onto the vast grounds, framed by an award or two (or three or four).
It's quite novel and incredibly lovely to sit there, spying a deer trotting by every now and again! After a warm up drink (it may have been a posh place but I couldn't resist a cider; a posh cider, of course) and catch up with fellow blogger Sophie and partner, we were ushered through to lunch. This was a novel experience too: being led past the dining area and walking into the kitchen to be seated!
We shuffled in a line into a bespoke and grand, one-sided red leather booth that had us all facing the kitchen. Chef Phil welcomed us and my eyes were instantly darting about the kitchen observing all the exciting little bits and pieces that were going on: little candied cubes being arranged on a plate with tweezers… discs of fondant being cut from a giant batch of potato… pots of various sauces being lovingly tended to all at once…
Phil began by explaining to us how the kitchen worked: the different stations, titles and the names of the chefs, who each uttered a cheerful, "Hello!" as their names were mentioned.
I've met Phil twice before as a fellow judge for the MK Food Awards. Needless to say as the most knowledgeable on the technicalities of cooking he naturally assumes the Simon Cowell role of the judging panel. Phil would scold a candidate for not turning their vegetables correctly or using the wrong cut of the fish, whilst I could do little more than bashfully argue that I thought the creation was delicious. In his own environment, Phil showed a laid back and jovial side to him that I had not seen before.
Laid back was the surprising atmosphere to the whole kitchen actually. When telling people I had been sat inside the kitchen a common response was, "But wasn't it horribly noisy?" and the answer is, not at all! It is as efficient as you would imagine a fine dining kitchen to be, yet unexpectedly calm. 10 young chefs all work away at their individual tasks in perfect harmony with one another, smiling not shouting. It was fascinating to watch. And as if by magic, a dish would quietly appear at the pass ready for us to enjoy.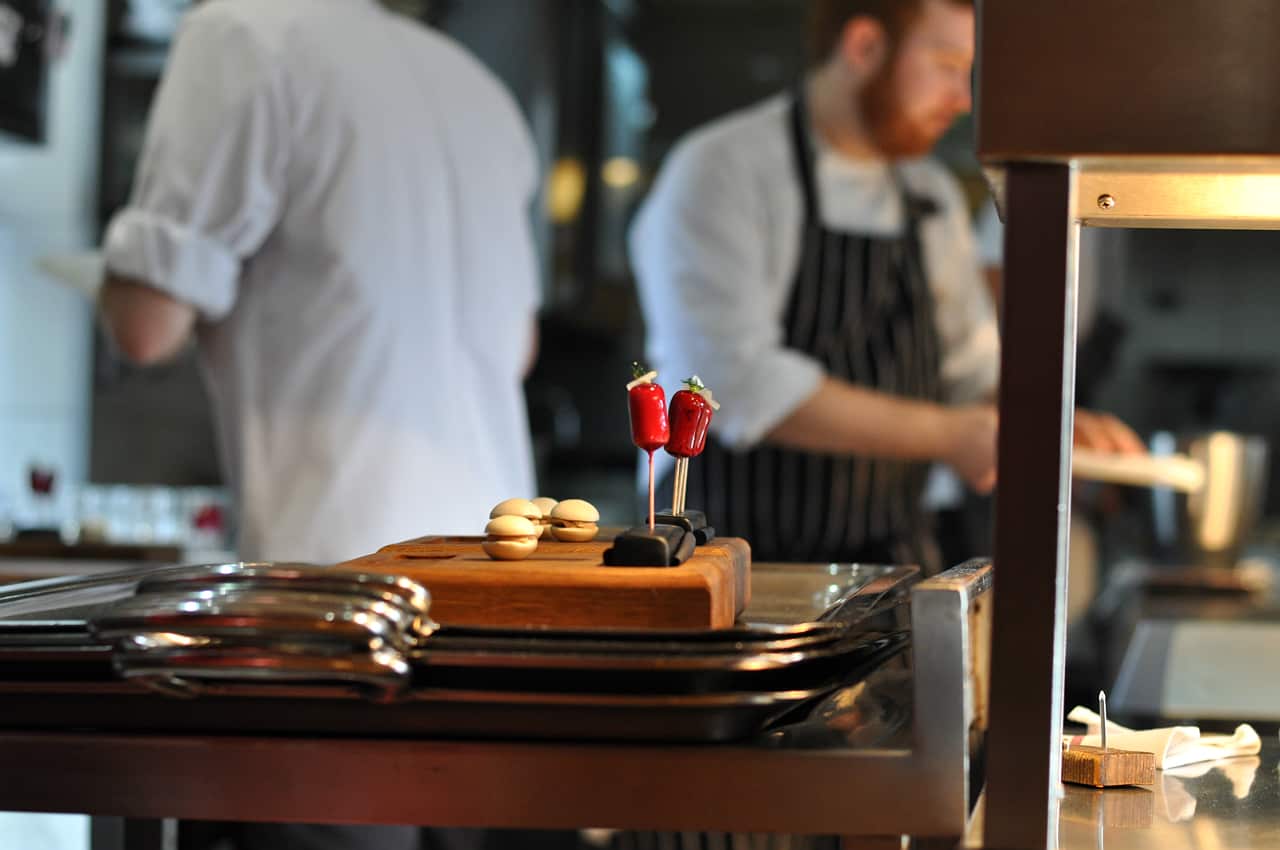 Our meal kicked off with some canapés: delicate morsels of salmon mousse quivering on a cocktail stick, and rich mini walnut macarons that had such a tasty combination of sweet and salty. We also got stuck into freshly baked, hot mini rolls slathered in marmite butter.
Our second offering and first dish was Tandoori spiced rabbit with mini poppadoms, yoghurt and mango chutney. I haven't eaten rabbit in years so I really enjoyed being served this! I think rabbit is such an underrated meat and not nearly as mainstream as it could be. Lovely soft and pink meat coated with a lightly spiced, yoghurty tang. The accompanying mango chutney; almost candied it has become so thick and reduced, paired perfectly with the rabbit. And the crunch of a mini poppadom every now and again made this really good fun to eat!
If there is something I adore, it's a bit of food theatrics. Few things are more theatrical than having chef pour a little jug of something delicious over your food to finish it off.
This next dish was simply called 'Cep': an ode to the mushroom. Pretty much as savoury as a dish can get, this held some incredibly earthy flavours with meaty slices of mushroom nestled on a bed of barley.
Between each course the waiter came along with an accompanying wine to enjoy with each dish. On each visit he would display the bottle and tell us all about the wine in a soothing French accent before serving.
"No.63" was right up mine and Q's street and possibly the favourite of the day. An Asian inspired steamed pork bun with crispy pork belly, ginger and enriched duck liver. Completely and utterly delicious, I wish it had been larger so I could enjoy it for longer! But of course, that's not in the name of fine dining, is it? (Yours truly was nick-named 'Greedy guts' by Phil. Thanks Phil.)
Oh yes, it's another sauce-at-your-table dish. Rich gravy with chunks of bone marrow is poured over a beautifully soft oxtail, stuffed with bacon and shallots. This course is a meat eater's paradise. A British dish, with an Asian twist of kimchi served alongside. A passion for Asian food is a strong theme across the menu with Eastern ingredients subtly incorporated where you wouldn't expect them.
The pacing of the food is very well done. Empty plates are not kept in front of you for a long time and the next dish is effortlessly brought to you before you can wonder where it is (not that there's much wondering as you watch the entire creation happen before your eyes) yet the service is not rushed either. Phil takes the time to chat to you as he and the team cooks, adding to this whole laid back thing which they really do seem to have perfected.
When we had finished the savoury courses we were asked whether we wanted a breather. I excitedly blurted out that we were definitely okay to have dessert. I must stop doing that!
Our first dessert course was inspired by Baklava: delicate discs of layered filo, pistachio and honey. Crunchy on top but chewy towards the bottom layers where the honey had soaked in and a little bit of spoon battling required to cut free a bite. Poured on top (third time lucky!) is an incredibly sweet honey mead sauce, with festive gold shimmer that is very hypnotic to watch.
The final dish, we watched being made since we were first sat. They began as large, chocolate cubes sat on large, wooden blocks. Slowly, they were decorated with piping and dustings and edible adornments, until a beautiful 'Christmas gift' was presented to us at the table.
An indulgent and unapologetic dessert, we re-named this "The Finisher" because any remnants of hunger from the fine dining portions were soon left behind after enjoying this beautiful parcel of rich Santander chocolate mousse coating layers of quince jelly and aerated chocolate. Having seen the time that went into preparing the dessert, and learning of the process that goes into each component it felt almost criminal to delve a spoon into it. A great way to round off a festive meal.
We finished feeling well fed and extremely well entertained and I have an even greater respect for the work that goes into fine dining. The experience of sitting at the Chef's table is really quite special, I cannot recommend this enough as a treat for a food lover in your life. The table seats up to eight people so perfect for special occasions. As we prepared to depart and were lead back past the diners in the main restaurant, I felt like I had a bit of secret.
If you'd like to try the festive menu for yourself, Paris House are offering my readers 10% off for December, just quote 'Girl Eats World' when booking! (And if you go tell Phil that Greedy Guts says hi.)
Disclosure: our meal was complimentary. As always all thoughts are my own.