Last Thursday I finished work and headed across town to Revolucion de Cuba for a press event; they are launching their new Cantina Menu and invited us along for a night of cocktails, games and food. I've always said their forte is partying, so off I went for some nearly-the-weekend fun!
I walked through the door and had a daiquiri thrust into my hand (my kinda event) and headed over to where the others were hanging out. It was so nice to meet other bloggers around the area, some who I've been talking to on Twitter for a while. We finally got to chat in person over some cocktails… and moustaches.
Yes, I did say moustaches.
Having relaxed over rum (we were given all the new drinks to try; I can confirm they are delicious and most importantly, strong) it was time to learn how to make a proper mojito with a cocktail master class.
The trick is to make sure the sugar has fully dissolved I'm told. Easy enough right? They decided to make it a little more challenging when we had a go ourselves.
Making a mojito blindfolded, paired to with a complete stranger telling you what to do is not something I could have envisaged doing on a Thursday night! I was in hysterics though; an excellent ice breaker.
And not a bad cocktail we made either!
The rest of the evening was spent chatting over the endless plates of food which emerged from the kitchen, all from the new Cantina menu. Tapas, starters, mains, desserts: we tried it all! Oh and guess what? Fresh guacamole, hoorah! If you read about my last visit, you'll know why that made me happy.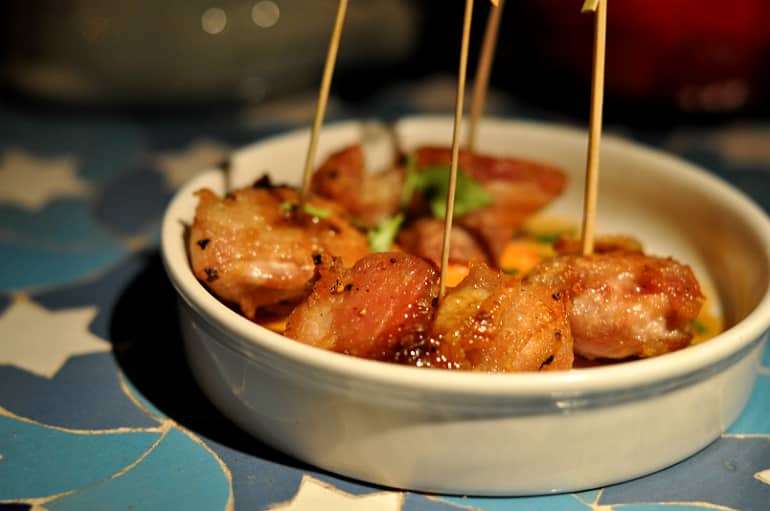 Whilst Q has learned to live with my need to photo our food before we eat, it's definitely something of a strange habit to most people. So it's always nice at blogger events to feel comfortable snapping away to your heart's content with no funny looks! I had a great time and I think the others I hung out with did too. Like I say, Rev de Cuba are good at throwing a party!