I've seen the name Calcutta Brasserie floating around here and there on Twitter, these guys always do great at the MK Food Awards, and apart from knowing they were an Indian restaurant with a great reputation I didn't think anything else of them. It was only on researching the restaurant prior to doing a review that I put two and two together. This is that restaurant in the incredible chapel!
I've visited just the once, many many years ago and had completely forgotten its existence, I've no idea how given the glorious setting. So this trip was a both a jog of my memory as well as a new experience, sussing out what the Brasserie's Sunday buffet was all about.
I'll get onto the food in a bit (promise!) but I really want to share with you the journey into the restaurant. See what I think is really great is the contrast in themes. Stony Stratford is that typical English chocolate box town, I mean there's bunting up for no reason for crying out loud. You turn off the high street into a quaint little courtyard and follow the path with signs for the Calcutta Brasserie leading to a dark doorway.
Stepping into the chapel you're met with soft Indian music, red stone floors, dark leather and wood and the most incredibly tall ceiling decorated as it would have been when it was a place of worship. (Now a place to worship food!)
It really is quite breath taking! I wasn't the only one getting out of my seat to take pictures.
The red stoned area of the restaurant is cleared of tables & chairs to make way for the Sunday buffet, we sat up on the stage area which I loved as you can watch over the food! Excellent people watching spot as well. Not long after being seated we were back up again exploring what was on offer.
In true irresistible fashion we kicked off with a big helping of poppadoms. There's a damn good spread of chutneys, sauces and salads to eat with them. You know how much I like a condiment.
The poppadoms themselves were really good: very dry and crisp, also nice and thick too. I hate when poppadoms are paper thin and disintegrate instantly on contact with your chutney. These were heavy duty, ready to pile on as much as you fancy and all the more moreish for it!
It didn't take me long to locate the Brit classics: sweet mango chutney and a wonderfully green mint yoghurt. But there were also some choices I'd never seen before at other restaurants, one was a lovely spiced tomato based sauce. Sadly I've no idea what it was called, but you really must try it!
A little more oohing and aahing at the beautiful chapel, and it was up again for the main event! Now, buffets can have that feed-the-masses vibe. We've all experienced it: the endless troughs of lack lustre food, everyone mindlessly filling their plate and filling their stomachs. I was pleased to see that the spread at Calcutta Brasserie was downsized. In fact, rather than bland, repetitive offerings, the whole buffet maintains a really nice level of authenticity without robbing you of your well-known favourites. They've got a great balance, I liked that I was forced to step outside of my familiar curry bubble and try something new.
Lovely rich colours! Nice and hot too. Temperature I mean- although the spices were certainly present and had my nose running just a bit!
Those mini tandoori chicken legs were incredible.
We did our best to try a bit of everything to fully experience the buffet. All the flavours were very good and the meats were wonderfully cooked, in particular the lamb in the rogan josh which was just so soft and tender!
As well as rice there was some delicious chickpea chana and daal, which is a lentil based dish. Both really tasty and added some real variety to the standard curry and rice fare.
Did I mention this is a 3 course affair? I was feeling pretty full at this point, but couldn't resist this guy tempting me!
Dessert was pretty simple & stripped back, but again offered some authentic choices. In addition to fruit salad, cheesecakes and a particularly smooth and delicious cream custard, there was an Indian rice pudding dish.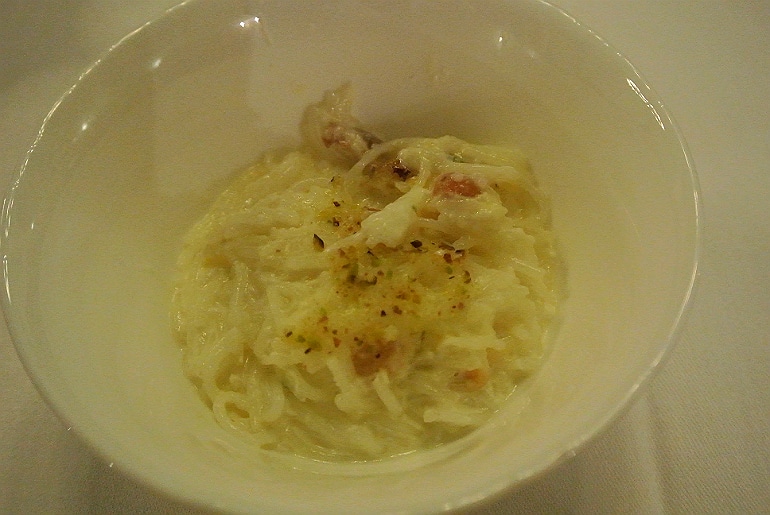 Warm and mildly sweet, this egg based dessert made with noodles rather than rice didn't beat the cream custard for me, but would make a nice accompaniment with fruit salad or compote.
When we visited the restaurant was very quiet, I couldn't help but wonder why. Too many Saturday or Sunday lunchtimes we've sat across the street and watched people mindlessly march into Red Hot World Buffet for their fill of mass produced grub. Buffets are clearly popular in MK and I truly hope I can convince a few readers to try something more authentic than the all-you-can-eat chains. I found the buffet at Calcutta Brasserie very enjoyable, and at £12.95 it's cheaper than the standard price at Red Hot and other local buffets too. Admittedly it's a very theatrical restaurant that you wouldn't visit every weekend, but it's such a lovely setting for an easy, lazy Sunday meal with friends or family and as it runs from 12pm until 9:30pm, you can get your fill whenever you feel like it!