Disclosure: Our visit was complimentary. As always all thoughts and words are my own.
Milton Keynes, being the oh so weird (we can dress it up as much as we want fellow residents, but the weirdness is undeniable) and wonderful place that it is, doesn't have a high street as such. Instead we have hubs and centres and districts where we gather to socialise, shop and eat.
Most infamously of all in my opinion, is the Theatre District.
When I was a teenager the Theatre District was the place to go, (or at least try to go if you hadn't turned 18 – sorry mum) for drinks. And yet somewhere along the course of a decade it went from a hive of activity to, well… tumbleweed.
From a nostalgic point of view this was sad. From a tourist point of view it's been just plain embarrassing. The Theatre District is where so many visitors from elsewhere in the UK come to before shows and the soulless drinking and dining options in otherwise shuttered up units has been such an awful way to showcase our unique (weird) little city.
Things began to change for the better in 2015 when Revolucion De Cuba opened and managed to not only survive in the Theatre District, but thrive. Since they landed they've been the jewel in the crown of this area with minimal competition. Until now that is…
Taking the place of Lloyds bar which previously took up this unit and was widely described as 'a bit fighty' the low calibre memories have been replaced with plush interiors gleaming with copper. Brewhouse & Kitchen is a relatively small chain of British pubs and microbreweries; the next nearest ones to Milton Keynes being Bedford and Islington, London.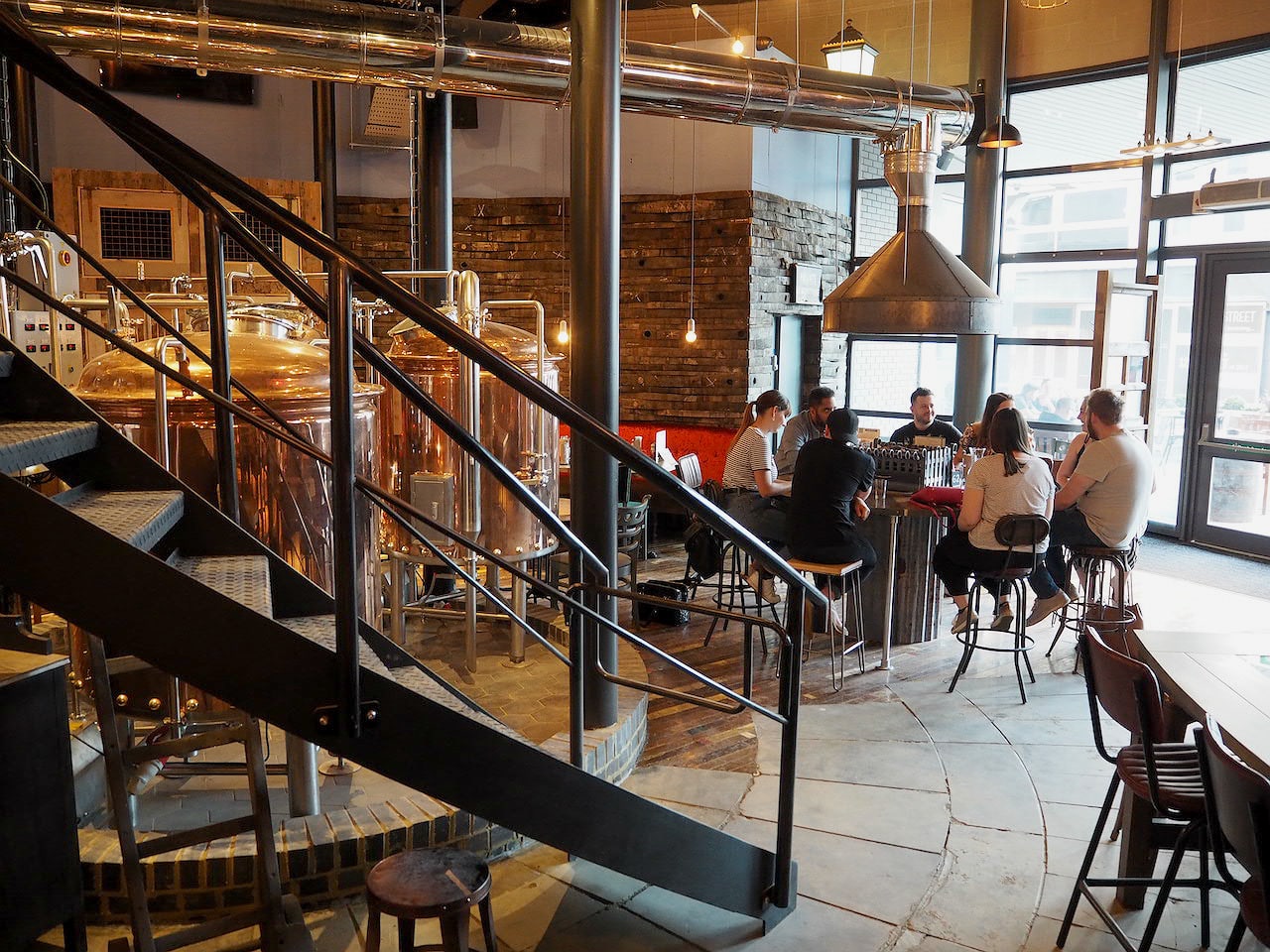 It's pretty damn cool and like something out of a movie set, the tower of brewing beer in the main ground floor seating area. Serious wow factor as you enter! I was there to get a sneak peek of the place before it opened, and to enjoy a beer masterclass.
Soaking up the glowing copper atmosphere our beer masterclass was led by Head Brewer Liam, who like any decent brewer was fanatical about beer. He bounced around the perimeter of our table excitedly telling us the story behind what we were about to drink.
The beer masterclass showcases a range of stouts, IPA's, amber and golden ales. It ranges from £20-£30 per person depending on whether you fancy nibbles or a full meal with your drinks.
We paused our beer tasting after a couple of drinks in (to keep those cameras steady) and took a tour of the rest of the Brewhouse… which is cavernous! I was taken back by just how big it is, but also just how much detail has gone into the interior to create seriously attractive drinking and dining spaces.
And best of all if the top floor. Floor-to-ceiling glass floods the internal space to give this bar a different feel… and then there's the lovely outdoor terrace which looks down onto the Theatre District below.
I can't think of anywhere else in Milton Keynes that has something like this?
I'm already planning a party for up here – what a venue!
Returning to the middle floor, it was time to get back on the beers. And to sample a spread from the menu.
Definitely the coolest thing about Brewhouse & Kitchen is that they not only brew on site, but they give their creations names personal to their location. Milton Keynes themed beers include:
Leaping Man: after Olympic jumper Greg Rutherford.
Webber's Vision: after urban theorist Melvin Webber AKA the man behind our unique (weird) grid system.
Colossus: after the 1940s code-breaking computer on display at Bletchley Park.
12th Street: in honour of the new name that the Theatre District is now branded under (and I am doing a terrible job of calling).
Beers paying homage to Milton Keynes I think is such a wonderful touch! Leaping Man was one of my favourites. In my new discovery of beer loving I appear to be a growing Golden ale fan.
The food is simple, casual and enjoyable. Starters range from £3.50-£5.95, whilst mains are around £10-£15. The kind of easy crowd pleasers you could well be after when having a few drinks with your friends. The best of the spread was the Mac & Cheese melts with chilli jam. Fetch me a plate of those and a pint yes please! Enhancing an otherwise simple menu is a thoughtful pairing of beer with every single dish, which is a brilliant touch.
For dessert we shared slithers of chocolate & coconut tart which was bloody lovely and just about fit in my belly after all the beers I'd drunk. I'll be back for a full slice.
Instant fan alert. I was so happy with what I saw in the sneak preview, and the range of beers on offer are fantastic. They've absolutely nailed the interior and vibe as a trendy new drinking spot in MK. I'm loving the different master classes and experiences they're offering too; the biggest one being an entire day with the brewer learning how to make beer and aiding the process, all whilst being fed and watered (beered) all day long. Very interested in this!
Yep, this place feels good. It feels like a positive, permanent turning point in regenerating this corner of Milton Keynes. If they can deliver consistent and decent service then this could become a new regular for a lot of people.