Well. After 8 years of Q and I talking about how much we'd love to visit Vancouver, we've finally gone and done it! I cannot believe I'm actually here and writing this post from our sky high apartment in the heart of the city. Fast cars are zooming by below and the sun is shining on the mountains in the distance. Mountains as the backdrop for a city, what an absolute dream!
First thing we did on arriving was sit on the balcony and stare down at everything that was going on below. Hmm no that's a lie, the first thing we did was head to the super market across the road for snacks. We both love foreign supermarkets; all the different foods and brands that you can't get back home! Of course, Lucky Charms got bought for breakfast… you cannot come to North America and not buy Lucky Charms!
Snacks only suffice for so long and come the morning of our first proper day in Vancouver we were ready to see what this city had to offer a hungry stomach. A short walk away was a spot called Catch 122, in the trendy, industrial 'Gas Town'. Word on the street was that this place is extremely popular and to go early… not a problem when you've got a bad case of jet lag on your hands.
We just beat the rush and were seated at one of the last tables with two pints of beermosas: beer & orange juice, which I assure you is surprisingly tasty and refreshing, especially first thing in the morning with your breakfast.
The vibe in this place, and Gas Town in general is similar to Soho in London in that it's young, trendy and very fond of a vintage light bulb. The menu is enticingly written with the 'Dirty Breakfast' catching my eye: a slice of duck fat French toast topped with duck confit, eggs and beans. A dirty breakfast indeed!
We got a complimentary serving of lovely fresh banana bread whilst we waited.
We're not in the UK anymore eh? What a portion! Living up to its name my dirty breakfast was a feast of fried bread, sweet meat and eggs. Not to mention a spectacular side of fried potatoes that were like roasties designed for breakfast: small, ultra crunchy and insanely tasty. This is the kind of meal that sorts you out for the entire day, and look, there's even an offering of greens to make you feel better.
Q had eggs Benedict with beef brisket. This is a creation that needs to go mainstream. I couldn't place what they had used to flavour the beef but it was an intriguing mix of sweet and smokey that I've never quite had before.
Putting down our knives and forks, we both looked at each other and muttered that we didn't think we'd be interested in lunch or dinner. Quite the meal to start the holiday on!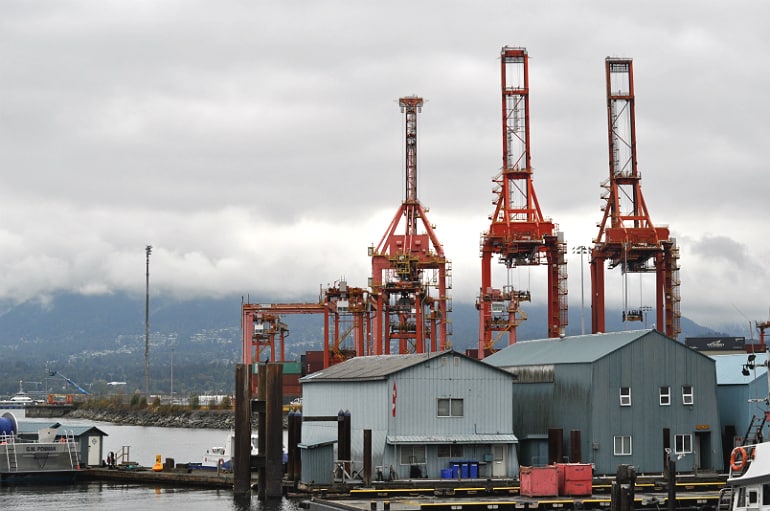 We walked (waddled) around the nearby streets in an effort to digest before heading back towards our own neighbourhood. Even on a gloomy day the city has some real presence about it. The grey sea and the clouds rolling down the mountains made for a pretty impressive scene. Gas Town in general fitted this moody vibe, as did the hearty breakfast which really did set us up for a day of discovering our surroundings!