This weekend good ol' Betty Crocker tweeted the link to a new dessert recipe: a winter spiced, decadent variation on traditional apple crumble. I think you'll agree it looks incredible and needless to say it bypassed my to-do list and went straight to the top of my 'Do it, do it now!' list.
The ingredients are simple and it really is very easy to make. I veered from the recipe a little and chose to bake with braeburns, because in all honesty I've never desired to use cooking apples; ever since helping my mum cook as a child and trying to eat slices of raw cooking apples before they were put into a pie. Eurgh, that taste: so sour! No, me and cooking apples don't see eye-to-eye.
Apple snobbery aside, you simply peel and slice them up.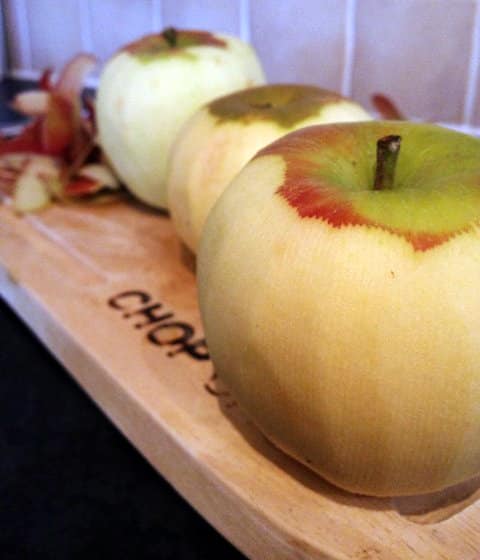 They then go into a bowl with your caramel & cinnamon, where they transform from doctor-approved health food, to naughty little chunks of Christmas (too soon?) flavoured joy.
Well, that's the apple filling done, onto that delicious crisp topping!
Forty minutes in the oven and forty minutes of my flat smelling more and more like a winter wonderland, the apple crisp is ready for consumption!
Ooooooh! I love when it comes out the oven still bubbling at the edges.
Okay, so mine doesn't look like the picture. But come on, does it ever? Mine is rustic and eaten by candlelight whilst the wind rattles my window frames 🙂
The apples soak up all that caramel and cinnamon and become super tender and juicy. In contrast the topping is all chewy underneath and crispy around the edges. SO so good!
The website says 20 minutes prep, I did it in half the time. This is the kind of thing I can imagine baking for my friends next time they come over the a film night, I don't think anyone will stand on ceremony when it comes to seconds either!