Well Milton Keynes, you've done it again! Banana tree is the second London chain to recently creep out of the capital and establish itself in The Hub. It's a casual, lively restaurant serving up Indochinese, which is a mix of cuisines from Vietnam, Cambodia, Thailand, Malaysia and Singapore to name a few. Think vibrant herbs and spices mixed into rice, noodle and soup dishes, served fast and fresh. As you know this is my kinda food, so I eagerly went along to the opening night to suss it all out!
The atmosphere is raw and industrial, oozing that trendy London vibe. Q and I have a thing for interesting lighting in restaurants and it didn't take us long to start admiring the different kinds on display!
…It also didn't take us long to find the bar.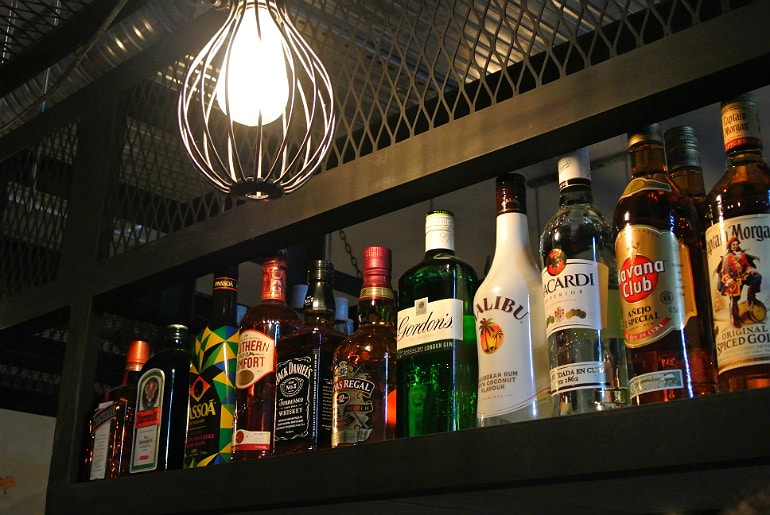 I started off with a lychee mojito, which pretty much blew my mind. I love lychee, never had it in a cocktail though. It's a refreshing, aromatic flavour and I guzzled mine down along with the alcohol soaked lychee garnish in no time!
Soon we started to notice trays of menu samplers appearing from the kitchen. There was a mix of starters and main courses weaving their way through the crowds.
It's worth taking a moment to point out an abundance of ceiling mounted, swinging chairs dotted around the restaurant. They looked amazing though I didn't have a go in one, I didn't trust myself to enjoy it in a grown up fashion! (Who can swing highest competition, anyone?!)
This sampler was seafood laksa; a hot and spicy coconut soup with juicy prawns and the most delicious creamy broth. Really loved this one and would definitely order from the menu.
Indochinese dumplings! Filled with soft, gently spiced chicken.
The spring rolls were very light and mild, filled with crispy vegetables and glass noodles. Didn't top Chinese spring rolls for me, but they'd make an easy going starter or light bite. The sweet chilli dipping sauce they came with was nice and fresh.
The whole evening food churned out from the kitchen in a continuous stream, no guest was ever short of an offering to try something else! We took a little breather with more cocktails and a wonder around the restaurant.
This passion fruit cooler was another too-easy-to-drink cocktail, it couldn't beat the lychee for me but was still mighty tasty!
There's a great variety of seating and different sections in the restaurant. Benches, tables, booths, swing chairs, even a brilliant area of seating sunk into the ground!
All the different nooks and crannies make you feel like you could sit down and make that little area your own for as long as you stay. There's a few raised seating areas too, one which hangs seemingly precariously above the bar with nothing but some railings around the edges!
Q wasn't too keen, not an area for those uncomfortable with heights!
Time to sample the main courses! This pad thai had lovely fresh noodles, a nice balance between thick and skinny. This dish is pretty hot and had me wishing I'd saved some of my cocktail! A very fast and fiery heat, which I imagine spice lovers will be all over.
Slow cooked beef rendang, which was wonderful. Very, very tender with a fragrant blend of curry flavours and a mild nutty taste. Great dish, another one I'd likely order off the menu.
These crispy little balls were corn cakes, nice and light, served with an equally crisp salad.
Sticky BBQ pork, rich and tender and moreish! Served with a sweet and refreshing papaya salad. Never had pork and papaya together before but it's a good combo.
We spent a little time digesting out on the terrace and taking in the atmosphere before heading home. The Hub had such a good vibe this evening; it felt really cosmopolitan and full of energy- somewhere a London chain could settle right into. And similarly, Banana Tree seems to be somewhere the folk of MK can settle right into as well. It's casual, modern dining with a really tasty looking menu, of which we tried just a fraction. Even better, Banana Tree offers lots of fresh and healthy dishes that are ideal for lighter and cheaper meals out.
Banana Tree opens on the 30th July, be sure to go and try it and let me know what you think!