I love it when a plan goes to… well, plan! New recipes don't always go right first time and require some tweaking, but these banana brownies came out just like I wanted first time. I'm so pleased, and I hope you love them!
The Most Delicious Chocolate and Banana Brownies
Okay so this is one for the lovers of extreme. I'm talking about obscenely moist, ultra decadent brownies. If you're a fan of my gooey brownie recipe, you'll love these! This recipe is perfect for when your bananas have gotten too ripe and you fancy doing something a little different to the usual banana bread. My banana brownies have extra moisture from said bananas, so you're guaranteed goo with this recipe! I promise you fail-safe, delicious indulgence.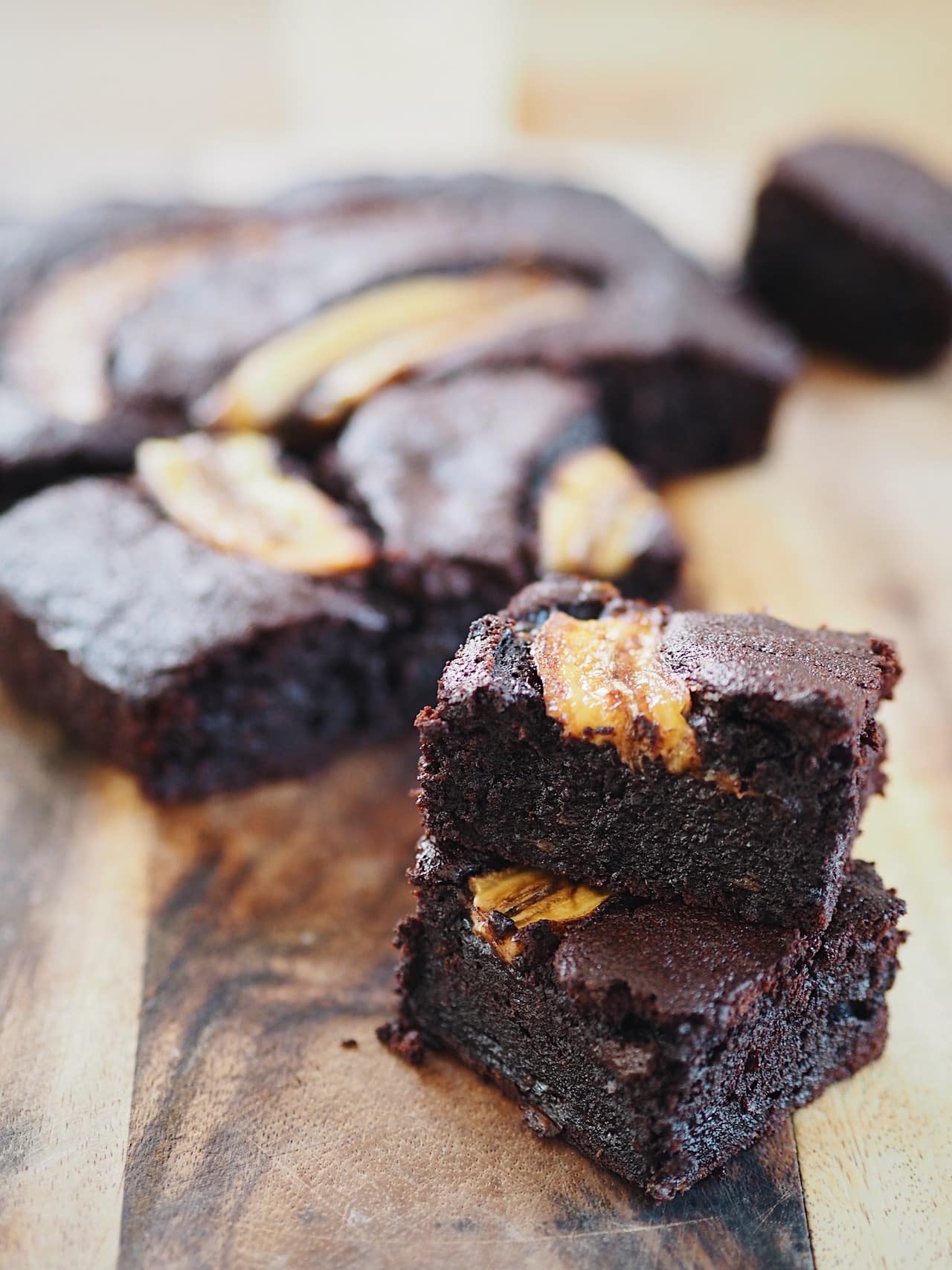 Ingredients
140g butter, melted
80g cocoa powder
150g caster sugar
Pinch of salt
1 tsp vanilla extract
2 eggs
4 tbsp honey
3 bananas (2 mashed, one sliced for topping)
60g plain flour
Method
Pre heat your oven to 180c. Line a square baking pan or dish (around 20cm x 20cm) with foil and grease.
Add your melted butter to a large bowl and sift in the cocoa powder. Then add the sugar, salt and vanilla extract and stir well until fully combined.
Next add the eggs and stir thoroughly once more. Once fully combined, add the honey… and stir some more.
Now it's time to mash your bananas. Make sure not to mash them into a completely smooth paste; some texture is good in this recipe and adds to the banana flavour. Add the mashed bananas to the batter and stir in. You will have a dark and very shiny batter.
Sift in your plain flour ensuring it is free of lumps and carefully fold this in. Pour the lovely batter into your baking pan or dish and flatten out the top with the back of a spoon. The final step is to garnish your banana brownie and really celebrate that banana goodness. Slice your third banana lengthways and place on top of the batter (sliced side up, it looks prettier!) pushing them in a little.
Bake for 45 minutes.
Recipe Overview
Banana Brownies
Moist and delicious chocolate and banana brownies. An incredibly simple recipe.
Ingredients
150

grams

caster sugar

140

grams

butter

melted

80

grams

cocoa powder

60

grams

plain flour

4

tbsp

honey

3

bananas

2

eggs

1

tsp

vanilla extract

0.5

tsp

salt
Instructions
Pre heat your oven to 180c (360f).

Line your baking dish/pan with greased foil (or parchment paper)

Add melted butter to a large mixing bowl.

Sift cocoa powder in to the butter whilst mixing.

Once butter and cocoa are combined, aadd the sugar, salt and vanilla extract.

Mix until fully combined and smooth.

Add the eggs and the honey to the mixture, and keep mixing until fully combined.

Mash two of your bananas, but you want them to be a little lumpy to add texture to the brownies. Add these to the mixture and combine.

Sift the plain flour in to the mixture. Carefully fold this in, making sure the mixture is completely smooth.

Pour mixture into your lined baking pan or dish, and flatten out the top with the back of a large spoon.

Cut your third banana in lengthways in to three strips, and gently lay on top of the brownie mixture. Push them in a little.

Bake for 45 minutes, and then allow 10 minutes to cool.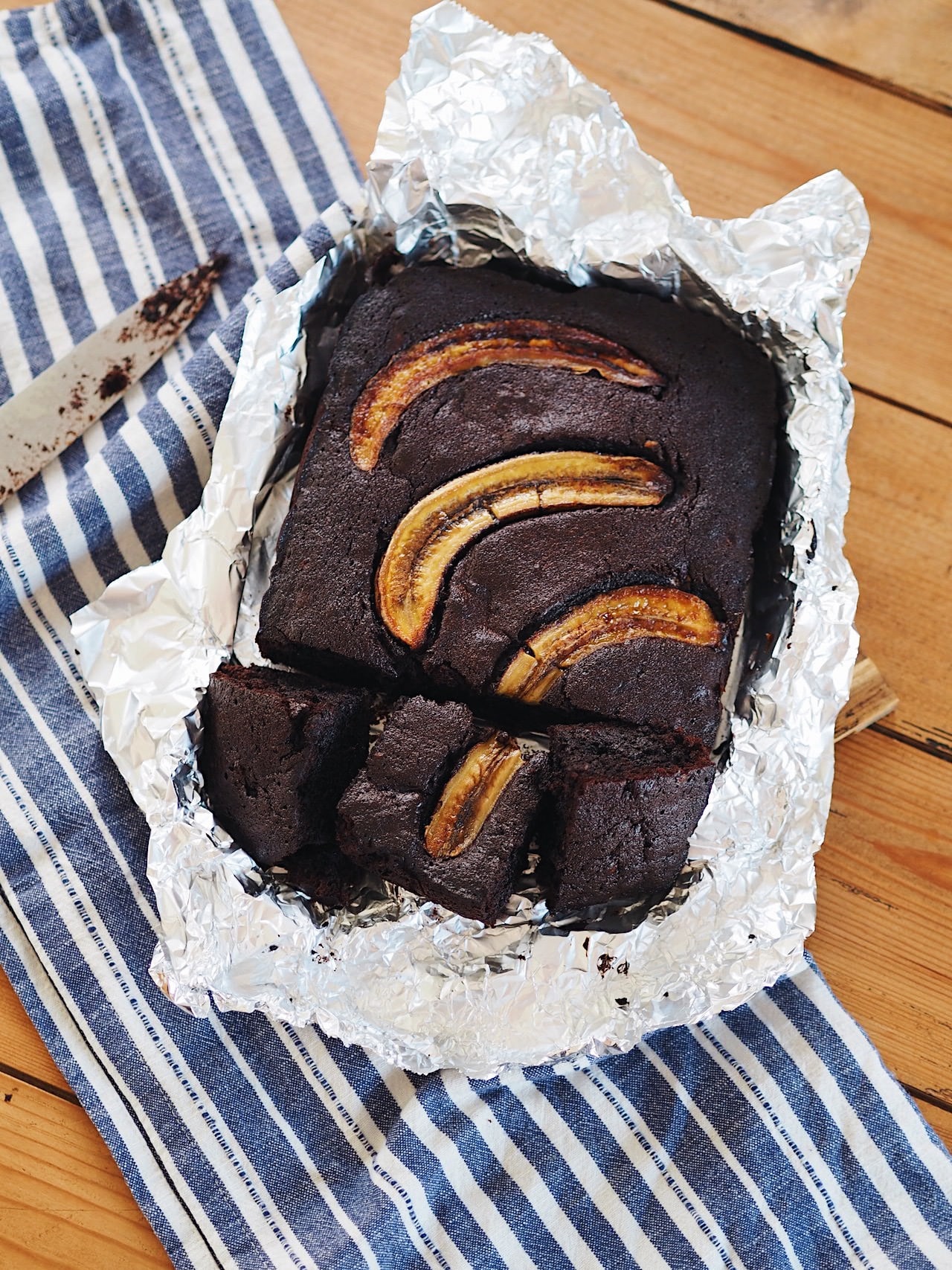 FAQs
How do you know when brownies are ready?
Ah the ultimate question, and most important part of brownie making! Texture is everything when it comes to brownies. Without that gooey centre it's just cake, right? You need to strike a fine balance between dry and cakey, and well, a puddle.  Using a toothpick, or small knife, poke it right into the centre of your brownie. When you take it out here's what to make of your findings:
Full covering of batter: your brownie is underdone. Cook for another 5 minutes and then check again. (Checking at regular intervals is important so it doesn't go the other way, it's a fine line!)
A light covering of moist crumb: It's good to go! Take that brownie out and set it to cool!
Toothpick/knife comes out clean: Uh-oh. This is a sign the brownie has cooked too much. Still tasty but not quite that perfect texture. Take it out immediately. If it's a little on the dry side, warm it up and enjoy with ice cream.
How long should brownies cool?
When you remove the brownie from the oven it may be slightly raised in the centre and have a very slight wobble. This banana brownie recipe is ultra gooey, so it's important to set your brownie aside to cool, no matter how tempted you are to dive in! You'll notice the brownie will sink down a little as it cools. Creating that lovely, rich and dense brownie texture. Once cool to the touch you can slice up into squares (probably around 10 minutes).
Can I use less sugar?
I have significantly reduced the amount of refined sugar in this recipe. Typically brownies are very heavy on the sugar, however I wanted to celebrate natural sweetness in this banana brownie recipe. Let those ultra ripe bananas do the talking, with the help of some natural sweetness from honey. The recipe still calls for sugar, as a lot of sweetness is needed to offset the bitterness of cocoa, however these have half the sugar of some I've seen, like this brownie recipe on the BBC website!
How long do these banana brownies keep?
Keep these brownies in the fridge so they stay fresh for a week, but they're so delicious they're unlikely to last that long. In addition to an indulgent snack, these banana brownies are perfect for dinner parties! You can bake them in advance, giving you more time to socialise. All they need is warming up (30 seconds in a microwave will do) and you can serve them with freshly whipped vanilla cream and berries. Or why not caramelise from bananas in sugar and your favourite alcohol to serve alongside?
If you love brownies, you should also check out some of my other baked recipes!
Pin it For Later
It makes my day when you guys try my recipes. If you give my banana brownies a go I would love to see! You can tag me at @jogirleatsworld. Happy baking!
Did you know that I have a cookbook?
Oh yes, my debut cookbook launched April 2022! Cook It, Eat It, Live It is a vibrant and varied collection of personal recipes straight from my own dinner table, to guarantee no more boring dinners.
There are delicious recipes to suit all seasons and appetites, with inspirations taken from British, Japanese and Caribbean cuisine. Recipes are punctuated with travel stories, food diaries and a personal philosophy for the every day joy that food can bring to life.
Cook It, Eat It, Live It has received fantastic reviews! Check them out