I'm the kind of person who will reach for the oat & raisin cookie over the chocolate chip, or the fruit cake over the sweet vanilla. I'm a sucker for traditional, earthy flavours when it comes to baking.
If, like me, you're a lover of rustic cakes full of natural flavours then this recipe will be perfect for you. Sweet, spiced banana flavour mixed with the wonderful moisture of a carrot cake; it's the best of both worlds combined! This cake isn't too fussy or overly sweet, making it perfect for an everyday treat with a cup of tea.
Banana and Carrot Cake
280g self raising flour
1tsp Baking Powder
120g caster sugar
1tsp ground ginger
1tsp ground cinnamon
0.5tsp ground nutmeg
160g grated carrot
3 eggs
2 mashed bananas
100ml olive oil
Pre heat your oven to 160c and prepare a 23cm wide tin by greasing it. For my cake I chose a square tin because I think the recipe lends itself well to being cut into squares. But a round cake tin will be fine.
In a bowl sift in the flour, add the sugar, ginger, cinnamon and nutmeg. Next stir in the grated carrot until it is evenly combined throughout the dry ingredients. Now add the eggs and stir thoroughly once more to combine. Then add the mashed bananas and stir well once more.  Finally, add the olive oil and give it one final stir.
Add your mixture to your cake tin and even out the top. Add to the oven and bake for 40-50 minutes.
I served this cake with some freshly whipped cream and a grating of orange zest.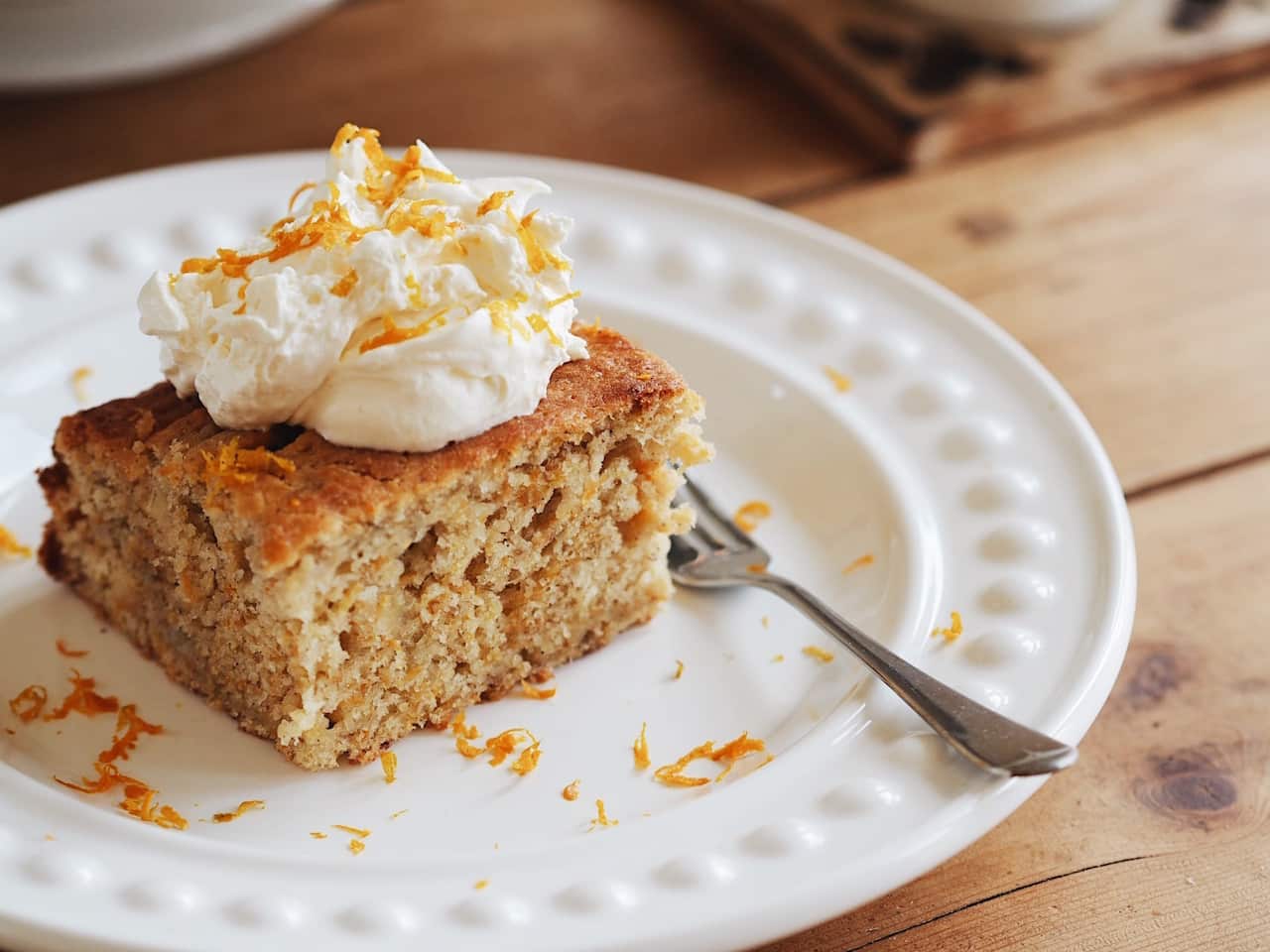 Baking Tips:
Use the fine side of your grater to grate the carrot. Also grate your carrot widthways not lengthways; this will give you fine gratings rather than long strands for a finer texture to this cake.
Use bananas which are very ripe; for baking you need to see lots of those brown spots- no green bananas! There's two reasons for this. Firstly, the riper the banana the softer it is, making it easy to mash into a texture suitable for sweet treats. Secondly and most importantly, the riper the banana is the more banana flavour it has.
Do not use an electric whisk for this cake mix! It is very textured, particularly with all the carrot, so it can lead to clogged up equipment. Nope, this rustic recipe just needs a good old fashioned wooden spoon and a sieve.
Fancy it Sweeter?
Why not take this cake from every day treat to super sweet and indulgent with some delicious ginger and orange icing?
150g icing sugar
Fresh orange juice
1 tsp ground ginger
Add your icing sugar and ginger to a bowl and gradually squeeze in the juice of the orange, a little at a time and keep stirring. Icing sugar can so easily become too watery so take it slow with the juice! Keep adding until you have a smooth but thick consistency, which runs slowly off the spoon.
To decorate your cake you can either drizzle it over with your spoon, but it'll look really fantastic if you can use a plastic piping bag! Add the icing to the piping bag and cut a very small opening. Now gently squeeze over the cake thick, uniform lines of icing. For a final decoration grate over some fresh orange zest. Allow the icing to cool before cutting your cake into squares.
Oil Vs Butter
I chose to use oil in this cake because I wanted it to be super moist. Using oil in a cake can make it last far longer without going dry, so that teamed with the carrot and banana makes this cake stay moist and delicious for days – which is ideal for an everyday bake where it won't be eaten all at once like a celebration cake would. Butter is really key to plainer cakes where you want that wonderful buttery taste to come through, but in a heavily spiced cake like this one it isn't important.
Any neutral tasting oil will work for your cake, but in-keeping with the natural theme an olive or rapeseed oil will be ideal.
Pin it for Later
Nothing makes me happier than when I see your creations! If you give this recipe a go I would love to see! You can tag me at @jogirleatsworld. Happy baking!