It's not just a man's heart that food can find its way to. No, no, no. The best way to show your mum how much you love her? That'd be with something homemade, sweet and totally delicious. And perhaps washed down with a few glasses or prosecco whilst staring at a beautiful bunch of flowers… but you get the idea: cake first.
If you're on this train of thought (and of course it's the thought that counts) but getting lost in a sea of Google searches and different baking websites looking for a recipe that best says, "I love you" then this blog post is here to help. Here are some of my favourite recipes that I've blogged, which I think are perfect for showing some love. Some recipes are my own creations and some have been found along the way, but they are all delicious and guaranteed to have your mum feeling special.
For the Traditionalist
I hope I am not offending anyone when I say that ginger is a bit of an old fashioned taste. I say that as a total ginger lover myself, but I notice that I share my obsession for it with my grandparents. Anyway, if you're baking with someone with similar traditional tastes in mind, then you must try my recipe for Chocolate and Ginger Biscuits. They're chocolatey rich with a gorgeous ginger hum. Perfect for a relaxing Mother's Day with feet up and a cup of tea!
For the Health Conscious
Mum on a diet? Or perhaps she just prefers her food a little less processed? Then she'll love my recipe for Pear and Ginger cakes (told you I loved ginger!) which are made with lovely fresh fruit and no refined sugar. Rustic appeal with delicate flavour.
For the Chocoholic
This one is not for the faint of heart and it's called Devil's Food Cake for good reason. This recipe was the result of scouring BBC and Food Network sites, to come up with a combination I felt suited worked for me. The result is a huge, dense, fudgey cake with fluffy, chocolatey frosting. Be sure not to spoil your dinner reservations when you cut your mum a slab of this baby!
For the Summer Lover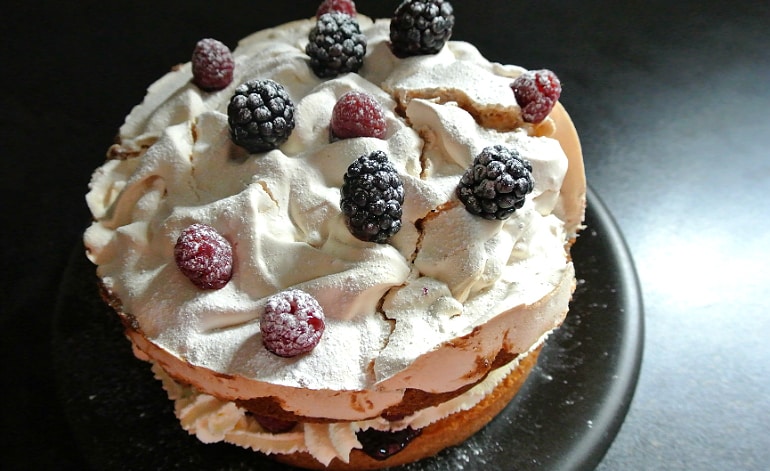 If your mum lives for a quintessential British Summer then she is going to love this Berry Meringue Cake by BBC Good Food. It takes quite a bit of work to bake, but my God if it doesn't have showstopper appeal. Total wow factor with this one! (And total brownie points for you)
Mum's deserve to feel special and know how much you appreciate them, but everyone has different budgets. That's why baking it perfect: it doesn't break the bank but it can mean so much to give a delicious, personal gift that you made all on your own with your mum in mind. Here's my final tips:
Small gathering? Once the Mother's Day celebrations have gone a leftover cake might be a little intimidating to tackle alone for the next week. Most cake recipes work just as well when poured into small cupcake tins, just cook for around 50-60% of the time. This means they stay fresher for longer and are much more manageable!
Imperfections? Hey, it happens with home made, and it's part of the fun in my opinion! If your cake has developed a little too much *ahem* character, then icing sugar is your friend. A dusting of icing sugar is like the Instagram filter of the cake world. Dust away, my friend.
Avoid plastic. I really dislike plastic containers; I'm convinced that they make your baking taste like the container! Metal or glass containers are so much better I think.
Make it for mum. This seems obvious but it's easy to do: In picking a recipe that you think looks great, don't get caught up in your own tastes and make something that your mum won't like! Nothing worse than mumbling, "Sorry mum, I forgot you hate cream."
Happy baking!