Supermarkets are great and all, but there's nothing quite like going to a specialist. A work colleague of mine treats themselves every pay day to a little shopping spree, or rather, a meat spree at a butchers down the road. Having a little pang of jealousy on hearing this, I decided to follow suit.
Admittedly it's been a while since I stepped inside a butchers so it felt like something of a novelty again; central Milton Keynes isn't exactly known for it's humble high street of food specialists now, is it? On visiting Peter Goss butchers I was met with a stretch of meats in every cut and size and variety I felt like a kid in a candy store! After a lot of umming and aahing I decided on a Friday meat feast in the form of 2 very delicious looking minted lamb shanks.
I haven't had lamb shank in the longest time, mainly because supermarkets just don't seem to stock it too often. They can seem like more of a fancy food like the kind you have in gastro pubs, but they really are a doddle. I got these two beasts for £7 and they came readily marinaded in a delicious mint rub. All I needed to do was place them in a dish with some butter, seasoning and a drizzle of olive oil, cover them in foil and wait no-so-patiently for them to cook at 170c for 2 hours.
It was worth the wait. Oh how it was!
Lamb shanks give you so much meat, it really is a huge portion! Mine got accompanied by some garlic mash, caramelised balsamic baby carrots and a slosh of red wine gravy.
Absolutely perfect reward after a long week.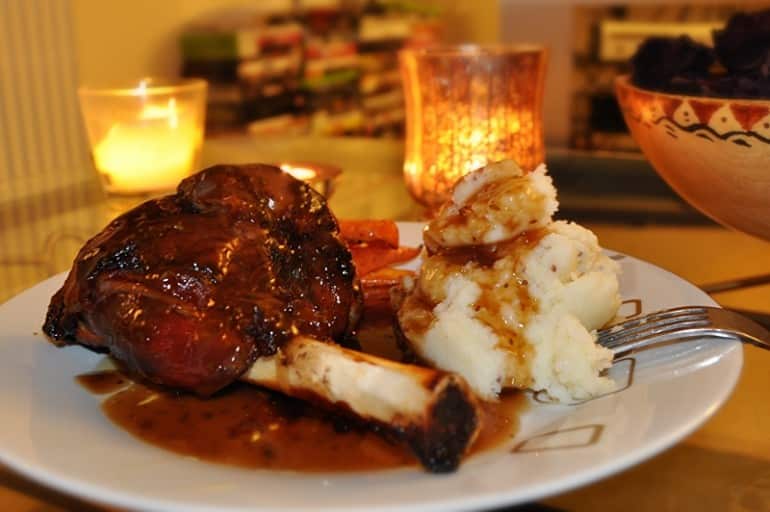 If you're ever in Bicester why not stop in at Peter Goss butchers? They have a great selection of quality meat and some seriously impressive looking sausages, that I will be back to try!