When I heard a new restaurant was opening in The Hub I felt a mixture of both excitement and pessimism. The Hub, whilst home to some hugely successful restaurant giants, has also become something of a cemetery for failing businesses. Independent bars and eateries alike have tried and failed their hand at breaking this area of Milton Keynes; Aqua Italia itself takes the place of a restaurant which opened and shut so swiftly no one can remember its name.
But how refreshing it would be to have more successful independents flaunting their talent in the centre rather than confined to the villages on outskirts of the city. I was invited to attend the opening party of Aqua Italia and ever the supporter of establishments bringing some personality to Milton Keynes, I went along with baited breath.
Pushing open the huge, glass doors we were hit with a wall of chatter and hot air from the kitchen. No sooner had we had our names ticked off we were being welcomed with a table of drinks, my kinda place!
It's an Italian aperitif they mixed with prosecco and soda to make a long refreshing drink that was extremely moreish, three visits back to the table moreish!
After a little wondering around to admire the contemporary yet intimate decor it wasn't long before we got stuck into the food. Now, me & Mr YumDimSum weren't sure what to make of the invites description of 'canapés'; the word implies everything will be small and sparing. I'm pleased to say we were wrong and tasters of the menu churned out from the kitchen effortlessly and continuously. We set up a spot right in the firing line of the waiting staff and got stuck in!
Lovely crisp breaded chicken with lemon.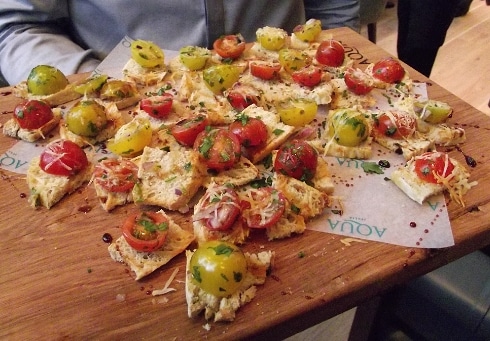 Not quite pizza, not quite bruschetta, this was simple but really tasty with fresh tomatoes doing the talking.
Chefs also came around with boards of freshly carved meats, which they prepare on a little stage outside of the kitchen on an exciting contraption!
Huge, crispy and outrageously hot risotto balls. These were incredible. Super cheesy and gooey inside with a perfectly crunchy shell. Total comfort food.
How cute? I loved these; little burgers showcasing an authentic Italian meatball topped with a little cheese and tomato sauce.
…And where would a burger be without chips? Polenta chips! These had to be one of the best looking things to come out of the kitchen, though I did find the taste didn't quite match up to the appearance. Gorgeous texture but a very subtle flavour, definitely a tool for mopping up sauce.
Sicillian lemon drizzle cake, freshly baked with warm icing.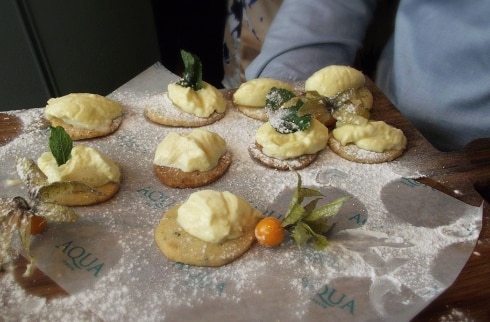 These unassuming little bites were my favourite dessert: cold & zingy lemon posset dolloped on top of an Italian shortbread. Lovely!
Now, I've left the pizzas until last, deliberately. I have to admit on learning the new restaurant's genre my first thought was, "Not another bloody pizza place." It's one of my favourite foods but with the likes of Zizi, Strada, Pizza Express and Lartista within this vicinity alone, did Milton Keynes really need another Italian?
I have to take it back, because Aqua Italia made me eat my words, along with slice after slice of their absolutely, utterly delicious pizzas. It's the sauce; that rich, tangy tomato base that shouts of fresh tomato and a beautiful blend of herbs. Barely any toppings are required for this masterpiece!
After sampling the food at Aqua Italia I'm so pleased to say that it does indeed have more to offer than the generic pizza/pasta chains on it's doorstep. The menu is packed with thoughtful and authentic dishes such as Tuscan pork belly, Duck breast and roasted lamb, even better at a very reasonable price.
Aqua Italia demonstrated efficiency and professionalism when we visited, and being a gastronomic step above the Italian food we've been used to, this is an independent with some serious potential to become one of the big players in Milton Keynes.
Show your support for the independents: make your bookings here!