Meat. In spherical form. Sitting atop a pile of stodge and crowned with cheese. It's a classic and I just made the best batch yet! You see Mr YumDimSum bought me a new cookbook for Christmas; it's full of flawless traditional recipes as well as a few modern dishes. The perfect comfort food bible! Look how pretty it is as well 🙂
I haven't cooked a pasta dish in what feels like forever, so when the page fell on spaghetti & meatballs I was sold! Of course, being the know-it-all I am I didn't follow the recipe to the letter. But seeing as these meatballs turned out to be the best damn meatballs I have ever created or tasted, I'm gonna share with you my version.
Meatballs
450g beef mince (full fat, don't be a flavour stinge)

2 white onions diced
1 courgette, cubed
Handful of plum tomatoes, halved
6 tbsp breadcrumbs
2 large eggs, beaten
4 garlic cloves
1 tsp dried Italian herbs
Handful of fresh basil, chopped
1 can chopped tomatoes
1/4 tube of sundried tomato puree
1 tbsp red pesto
20-35g finely grated cheese (strong cheddar or parmesan)
Salt & pepper
First you need to pre heat your oven to 220 degrees. In a pan, fry up one of your onions with the garlic, a pinch of salt and cook on a medium-low heat until they're soft. Place them to your mixing bowl, where you will add the mince, eggs, breadcrumbs, dried herbs and cheese. Give it a good smoosh until combined!
Now you just have to roll them into balls. I used a tablespoon measure to ensure they were all even.
These go into the oven for 20 minutes. Whilst they're cooking it's sauce making time. Fry up the other onion with your courgette. Add salt, pepper, a sprinkling of dried herbs, tomato puree and red pesto.
Look at that concentrated flavour! Now add your plum tomatoes. Finally, when they've softened add the chopped tomatoes & basil. Your meatballs will be ready soon and they'll emerge from the oven browned and oozing with cheese.
Transfer the meatballs into the sauce and leave to simmer gently. Now put on your pasta of choice: spaghetti, twists, tubes, bows, shells… whatever you like: you are the master of your pasta! (Rhymes if you're posh)
Look what you've made: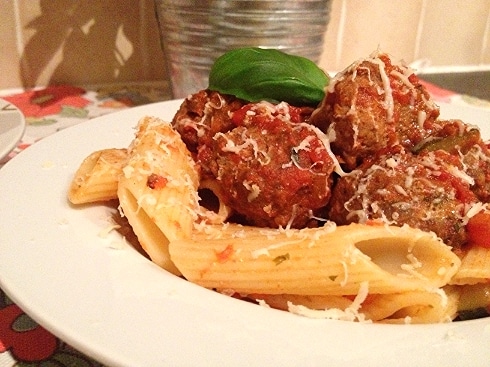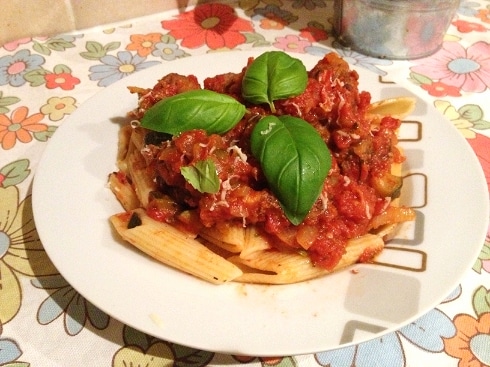 Top with more grated cheese and a sprig of basil. Because comfort food should hug all your senses! Besides, eating with your eyes is almost as good as eating itself. Almost.