Regular readers, I'm very sorry for my lack of blog posts recently! Life has been a little hectic and I've been all over the place. In the last few weeks I've been up and down the country for various things, but most excitingly, Q and I took a lovely city break away in York! I've never been before and have completely fallen in love with the stunning historic streets, wonderfully friendly locals and back-to-back coffee shops, pubs and eateries. It's such a lovely city and if it wasn't so far away I would love to live there!

We stayed at a boutique hotel called Judges Court; it's right in the centre but nestled away down a very secret looking walkway; the perfect location for exploring the city and hiding away at the end of the day.
Because it used to be a lodging for judges back in t' day (that's my attempt at a Yorkshire accent) they've decorated the hotel with little judgemental touches which made me chuckle!
The food and drink scene in York is endless, making it so very tough to pick which places to visit in the short time we were there! Here's some of the highlights:
Shambles Kitchen
I'm always very wary of getting too full during the day on a city break. It's so hard not to eat everything in sight when there is so much around! Big efforts have to be made to save room for the main evening meals, so Shambles Kitchen was a handy find. It's a cool little unit selling fresh wraps, rolls, soups and street food inspired specials.
All pretty light and healthy too!
Spring Espresso
I think you can tell a good coffee house by how many people appear rooted to their seats with no intention to leave. The ones who have one hand firmly planted on their coffee and a look of real concentration on whatever device or conversation is happening in front of them. Spring Espresso was one of those places so in we went for a round of flat whites, which looked incredible and tasted better. A slice of light and moist almond and berry cake on the side and I was very happy hanging out here for a while!
The Go Down
I've really been craving some hearty gastro pub food lately, so I was super happy when Q revealed a booking for this place! There's set menu options as well as a la carte, both work out as very good value, in fact I was very surprised at how cheap our bill was at the end of the meal, especially given the high standard of both the food and service we received.
Rather than the standard small offering of complimentary bread, we were served an entire loaf! Still warm from the oven, the garlic butter that accompanied it melted right in, I just love that! Try your best not to fill up on this bread though (it's so hard not to!) because the portions are very generous throughout the courses.
My slow roasted beef on a bed of horseradish mash and (of course) a Yorkshire pudding was just perfect, exactly the kind of hearty meal I was after! The vegetable sides were equally rich and tasty.
Evil Eye
We were recommended this bar by a friend and it was a great spot for some before and after dinner cocktails. The menu is extensive and because it's a student town there's some great deals to be had!
Betty's
Betty's tea room was the last place we visited before heading home. We'd walked past it a lot during our visit and each time it was packed with people, so we had to go see what the fuss was about! It's a very elaborate dining space with ornate Art Nouveau touches. The staff are smartly dressed and despite people coming off the high street in their casual clothes, there's an air of formality about the place.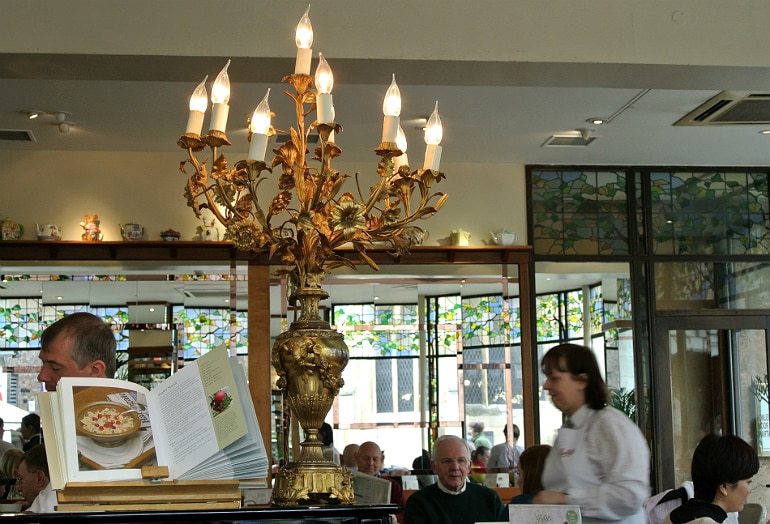 Now, I know we went for breakfast and I know it was only 10am, but their cake selection looked so lovely I had to order a dessert! Just as well, as the vanilla slice with berries and coulis was gorgeous. Cool and light and creamy, it actually worked very well as a breakfast item!
So very much good food in York; I could have stayed a week and still returned home feeling like I'd missed out! Sadly I couldn't share a couple of places on here because my memory card broke! But there's some more pictures on my Instagram account if you fancy a look. If you've never been to York I highly recommend it, I'm already planning my next trip back!