Amid the cold weather, diets, soft drinks and dry bank balances there's a little glimmer of January fun for yours truly… it's my birthday!
Oh yes! January blues step aside for a few days and make way for cake and presents and fun! Q always bakes me a birthday cake (I can't tell you how warm and fuzzy that makes me) and this year he made me the most delicious, fudgy chocolate cake topped with Mini Eggs… because it's never to early for Mini Eggs.
Not long after opening my presents and blowing out my candles I was told that I needed to pack an overnight bag. *Excitement!* One speedy shower and packing sesh later (I was also told that we had lunch reservations at 2pm) we were on the road and I was being whisked away through the mist to Bath.
We visited Bath a few years ago and I just loved it; it's such a beautiful place, sat among the hills there's different levels and numerous incredible vantage points over the city. It's got that quintessential Britishness about it.
Our hotel was equally British; a 1700's manor home called Paradise House.
And sat on top of the hill it was privy to some of those amazing city views I was talking about, made even more stunning with the low Winter sun.
The hotel only has a small number of rooms, so it's got a nice intimate vibe. On arrival we were made to feel at home, being led into the drawing room: a lovely space with a warm, open fire and more of those views.
I instantly made a beeline for the velvet sofa and sat, happy as a cat, staring at the flames. Cue instant contentedness! Improved even more when we were brought a welcome tray of hot tea and freshly baked brownies.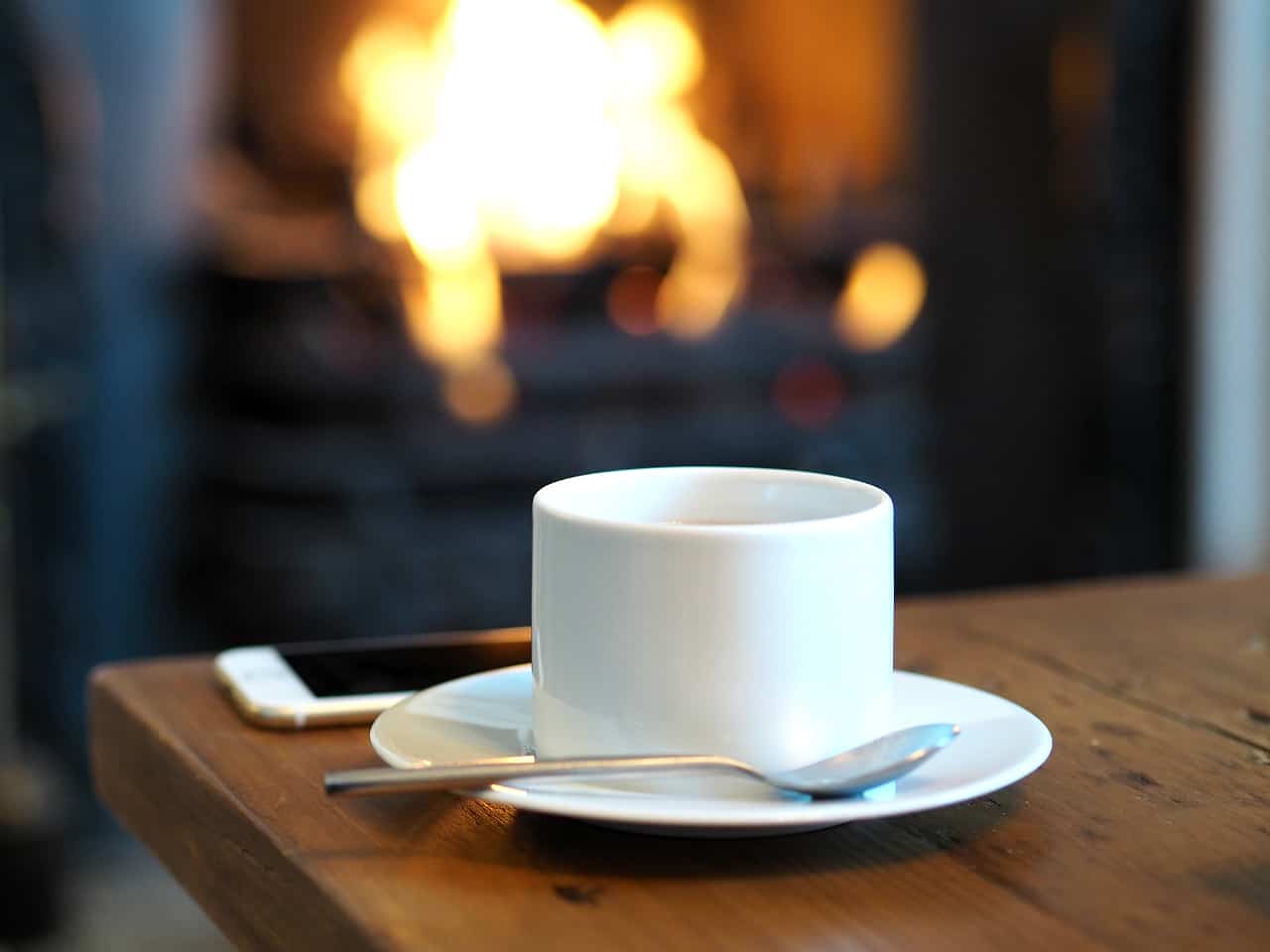 Heaven! Warm fire. Warm drink. Warm treat. One of those moments where you close your eyes for a few moments and enjoy how utterly relaxed you suddenly feel.
We eventually made our way up to our room, classic with modern touches, a large marshmallow bed and a large bay window. And yes, more city views!
Best of all, some double doors gave way to a large bathroom with a huge, free standing bath. [Insert obvious joke about baths in Bath]
Settled in, we wrapped up and headed into town for a late lunch. Q had booked a place called Thaikhun.
It's one of those restaurants that is filled, floor to ceiling, with stuff…
…which I for one love! Thaikun is a small chain of restaurants selling Thai street food. It's quick, fuss free food and perfect for a lunchtime feast. Best of all, they're running a 40% discount throughout January.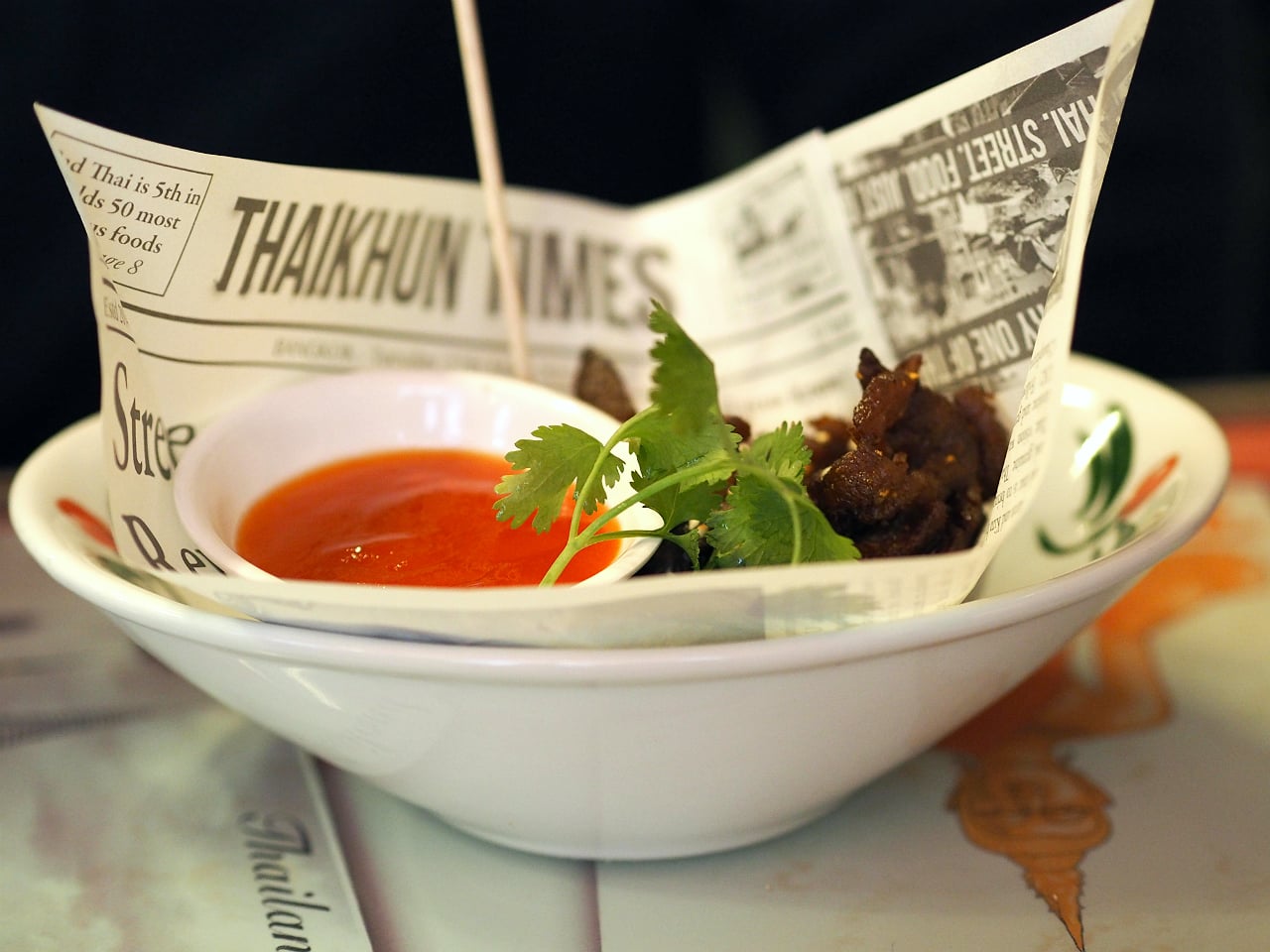 The satay sauce that came with my chicken skewers was to die for, and even better there were little squares of toast for finishing off every last drop. Simple things eh?
Bellies warmed, mine full of deliciously tender bbq pork and rice, we took to the streets to enjoy the sunshine bouncing off that crisp Bath stone.
I've never seen such pristine highstreets! Especially beautiful with the backdrop of the hills peeping out every now and again. Off from the main streets the buildings become more rustic. Tea rooms and old fashioned chocolate shops become abundant.
After a few hours of shopping and sightseeing the sun went down and our minds (and our cold hands and toes!) turned to finding a cosy pub. No shortage of those in Bath and best of all, being Somerset we were in total cider heaven! We wondered into the Bath Brewhouse where I clapped eyes on a pot of mulled cider… things should be mulled all year round, don't you think?
The Brewhouse, as the name suggests, has a micro brewery attached (I believe they do tours) to the pub and quite the portfolio of drinks; they had a sign saying they'd served 800 different beers since 2013! It's a really warm atmosphere with plenty of seating; a great place to work your way through as many different pints as you can handle. Failing that you can buy growlers of your favourite to take home.
The Brewhouse serve food as well, but wanting to make the most of our visit we took to the streets to experience somewhere else. It didn't take long for a giant neon sign to lure us to our next stop.
The Stable, looking ultra casual and selling pizza, pies and ciders galore, was just what we were after. The extensive cider selection was available to taste before making a decision. Lot's of 'proper' ciders with really robust flavours, just how I like it.
I love these kind of restaurants: where you can get your food and your drink and then be left to your own devices; people watching, chatting, picking at your food. We sat for ages doing just that until they were closing.
We arrived back at our room with the city lights glowing through our window. The night ended in that incredible bath, filled with Molton Brown bubbles. Such a relaxing way to end the day!
Waking up to a frosty morning, we floated down to breakfast to find the prime table, right by the window was free. The joys once again of quiet Januarys! The fire was stoked and I sat staring out at the frozen lawn.
Breakfast was an absolute dream, so much better than anything I was expecting! I thought it would be your standard self-serve bar of cereals and fruits, which of course there were…
Fresh watermelon, super fruity muesli and organic blueberry yoghurt had me happy enough. But then we discovered the breakfast menu and realised the bar was merely the warm up!
Out came our Full English, smoked salmon, scrambled eggs and a basket of toast.
Um, wow? This was such a beautiful breakfast, amazing quality and one seriously generous helping of smoked salmon for me; as my favourite food nothing makes me sadder than a meagre serving! I felt ready to take on anything after this breakfast! (The giant cafetiere of coffee may have had something to do with that).
Aaah, 24 hours in Bath completely refreshed me. Birthdays used to be messy affairs when I was younger, but as I enter the last of my twenty-somethings, working harder than ever I am so grateful to take my birthdays with some well deserved R&R. After all, I have never loved anything more than good food, good company and great experiences.