I've said it before and I'll say it again; as a lover of hearty British food I am incredibly lucky to live where I do. There are some absolutely incredible country pubs on my doorstep.
Or should I in fact say that I feel incredibly lucky to live in the UK full stop. Putting aside any politics and focusing from a food perspective at least! I really hope that every person residing in Britain truly appreciates the unique luxury that we have in our pub culture. Because it's not just local to where I live; it's everywhere. Beautiful chocolate box buildings, steeped in history and scattered about the countryside like little gems, just waiting to welcome you in.
I adore everything about pub culture and I especially (naturally) adore the pubs showcasing incredible British food. A short drive away from me and a hop over the border into Oxfordshire is a pub that I have visited for a number of years for various special occasions: The Muddy Duck.
I first visited The Muddy Duck for my birthday back in 2012. The pub launched that year and be it through clever marketing or word of mouth, quickly generated a huge amount of hype. I remember reading that once the word had got out about the pub, "We won't be able to get in for love or money." Which pretty much proved to be the case when we had to book three months in advance (three months!) to get a table.
It was worth the wait and we had a fabulous first meal… along with a good few since! What sets this pub apart is the unwavering sense of style. It starts off with a beautiful farmhouse-style lobby. To the right you are taken through to a wonderfully cosy pub adorned with feathered wreaths, bizarre taxidermy and a roaring fire. And to the left is the dining area with dark wooden floors, thick stone walls and sturdy timber beams garnished with twinkling lights. Every time I enter this space I find myself day dreaming about what it might look like if it were a home. (Note to owners: if you're ever looking to sell, call me.)
The Muddy Duck invited me to dinner following a recent refurb. When chatting to others about this I was met with echoes of my own thoughts: "But I didn't think there was anything wrong with it?"
I was relieved on arriving to find that they haven't actually changed all that much and it still retains all of the charm that it did before, right down the original Crapper toilets. The changes have mainly taken place in the kitchen which is now upgraded, refitted and much more open plan… if spying on the chefs is your kind thing (I know it is mine).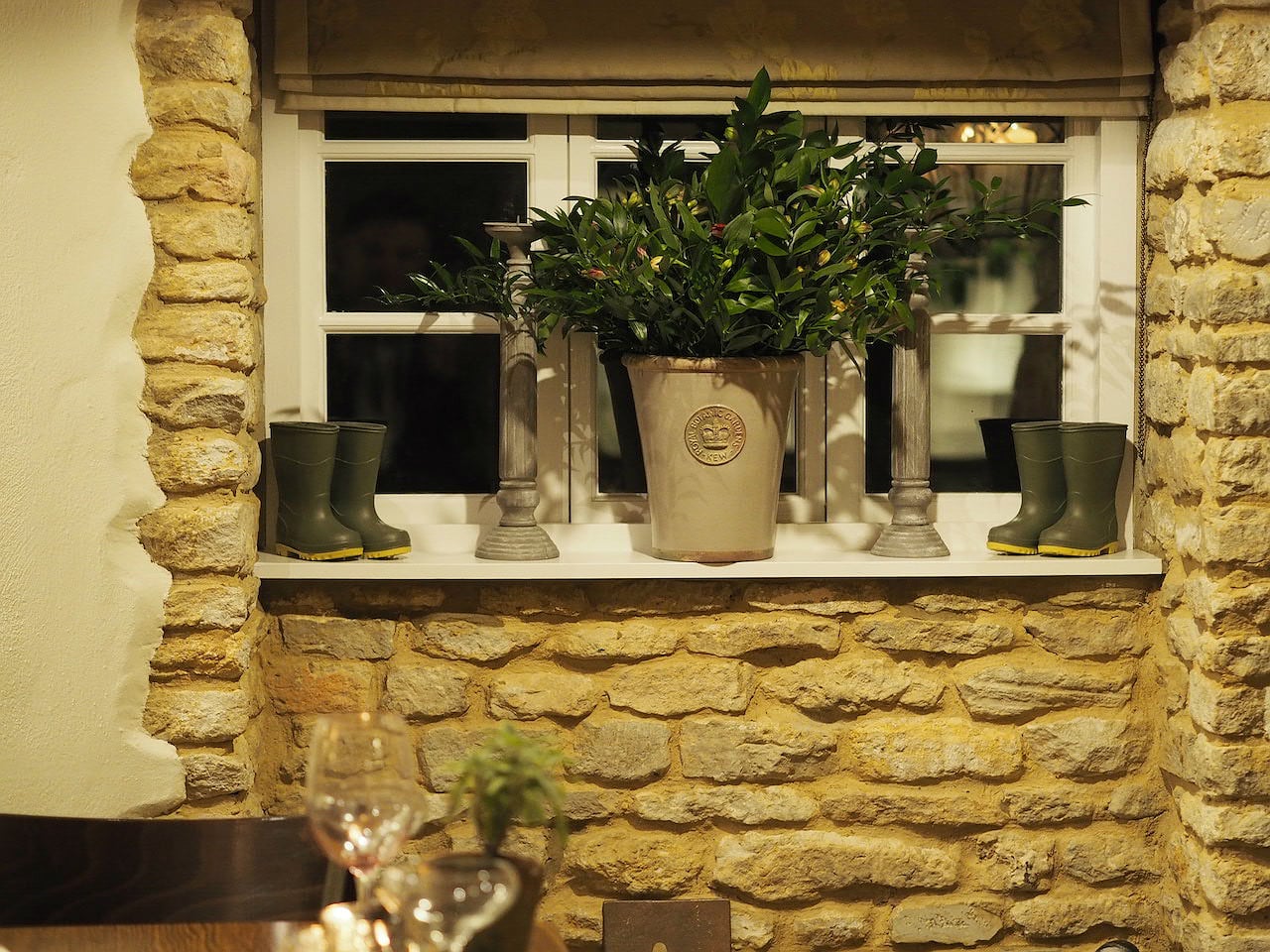 The bar has re-launched with a brand new cocktail menu… or 'Draketails' as they've named them. If you can't decide between a 'Bourbon Badass' and a 'Welly Wanger' then roll a dice to make a choice… if you roll a six you'll get your drink on the house! (But the bartender picks, and Lord have mercy on your liver if he makes you 'The Fubar'.)
Kicking off the meal with simple and well executed dishes I went for the game terrine and Q chose the charcuterie board. Passion for ethical, well sourced ingredients is apparent across the menu. In fact, an entire page is dedicated to telling you all about the locally sourced, reared, foraged (yes really, they forage for wild garlic and horseradish!) and hand finished items which feature in your meals. It feels ever so wholesome.
We were treated to a little bonus dish from chef, of homemade ricotta with pear. Extremely fresh and light, and extremely tasty scooped up onto slices of the rustic brown bread we were served with salted butter.
Mains were a tale of two halves. I plumped for the rump of lamb with a side of herby spuds, whilst Q was won over by a breaded pork chop. I was in a real lamby mood but in hindsight I'd picked a rather conservative dish – meat & two veg you could say. Well executed elements and lovely, super pink lamb. Although I would have welcomed a little more moisture on my plate.
The pork chop however. Oh my. We need to talk about this. When Q ordered it I thought he was the one being conservative! What arrived at the table and was placed down before him with a hearty 'thud' was a behemoth of a pork chop, gloriously dusted in a golden coating of breadcrumbs. Served with buttered kale and mash, though it dwarfed all else on the plate- what presence! It had been cooked beautifully and was full of moisture. The crowning glory of this dish is the cider and pancetta sauce. It's a heavenly meal and not one that you see very often at all on a menu. In fact, I can't recall a gourmet breaded meat on any other pub menu that I have recently looked at. This one needs to stay on the Muddy Duck menu for sure!
As per usual, dessert is where my partner in food bows out and leaves me to go on alone, with the reassurance that he'll, 'have a taste'. He sat back with an affogato (and the biggest serving of espresso!) whilst I did one-on-one battle with a refreshing passion fruit tart and banana ice cream number. Banana flavoured dairy foods are underrated and underrepresented, which is exactly why I chose this dish. The ice cream, as per my banana-flavoured opinions, was bloody lovely.
What a tasty Autumn evening! A lesson in if it ain't broke, don't fix it. Just give it a little tweak, a little love to keep it going.
Disclosure: Our meal was complimentary. As always all words and thoughts are my own.